The single bed dimensions are 3 ft (90 cm) wide and 6 ft 3" (190 cm) long.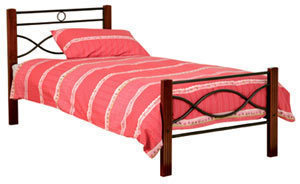 There are also smaller single beds that are 2 ft 6" (75 cm) wide and 6 ft 3" (190 cm) long.
About Bed Frames
Bed frames, metal beds and bedsteads are also sold in single bed sizes. However, the frames will be bigger than the mattress. The reason is it wraps around the mattress. Also keep in mind that the frame dimensions will be dependent on the frame thickness and style. Aside from metal, wood is another common material used.
Unusual Sizes
In some cases, the single bed dimensions may vary from the ones specified earlier. However, the manufacturer will usually state the specific dimensions first.
Single Beds in the US and Other Countries
In the US, the single bed mattress is sold in the 39 x 75 inch size. This is also the size used in Canada. For tall people, a longer version is available measuring 39 x 80 niches.
The longer bed is used in most college dorms and some hotels. Of course the bed can also be purchased at home. If this is still too small, the super single bed may be suitable for you. This bed measures 48 inches by 84 inches.
Single Beds for Kids
There are also some single beds made just for children. In terms of size, it is a bit smaller than single beds for adults. There are also narrow beds that measure 36 x 75 inches. These beds are widely available in the US and Canada.
These beds are ideal for children. For toddlers, there are small beds with guardrails or side rails. These safety features will keep the child safe when sleeping.
International Sizes
The dimensions of the bed sold around the world differ. Typically, the single beds in the US are the largest available. The single beds made in Europe are smaller. The single beds made in Australia and the United Kingdom measure 36 x 75 inches.
Also remember that the bunk bed is the same size as the American single bed at 39 x 75 inches. There is a smaller version for children available too. Other sizes may be used in other countries.
While the single bed dimensions are important, you also have to check the material used to make the bed. This will make a big difference in terms of cost.