Planning a wedding can be pretty stressful. With all the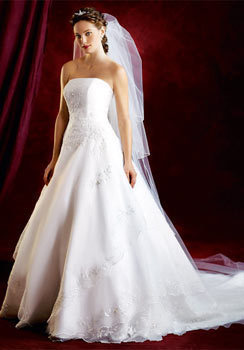 preparations that you need to do in order to make it a truly momentous occasion, the last thing you want to worry about is fitting into your wedding dress.
First off, you should know that wedding dress sizes differ from your regular clothes size. It is said that the sizes for wedding gowns are measured using an age-old system that was adopted during World War II, based on sizing for military uniforms.
How are Wedding Gowns Sized?
As a rule of thumb, wedding dresses are sized in a particular order starting with the bust, going down to the waist and finally, the hips. The size of the wedding gown is determined by the largest-sized body part from any of the three.
So for instance, if your bust size and your waist size is a 4 and your hip size is a 6; your wedding dress size is therefore a 6.
Now that you know this tiny fact about wedding gown sizes, you need no longer feel bad that your size suddenly shot-up by two sizes and start worrying about going on a crash diet before your big day.
Wedding Gown Buying Tips
Wedding dresses do not come cheap. On the average, a simple wedding gown would cost more than a thousand dollars. This is why it is very important to take your sweet time looking at different wedding dresses not only so you can find the perfect dress for your wedding day but more so to enable you to get a good deal on your gown.
Before you walk into a wedding dress shop, it would help if you already know the kind of look that you want your gown to have. This will help you narrow down your search.
Designer gowns are of course a bride's dream wedding dress but these come with a steep price tag. If you'd really like to have a designer gown, you may want to consider checking out auction sites online that offer used gowns that look brand new.
On the other hand, there are cheaper alternatives wherein shops can create gowns that look very similar to designer gowns.
Next, if your gown needs to be altered to fit you better, check for the shop's policy on alterations. Usually, alterations on gowns are offered for free by the same shop you got your gown from so make sure that you won't be charged extra for this.
Finally, and most importantly, get a gown that you feel comfortable and beautiful in. Confidence definitely adds to how beautiful you will look in your gown on your wedding day.