Amongst the different types of close relationships, the wedding is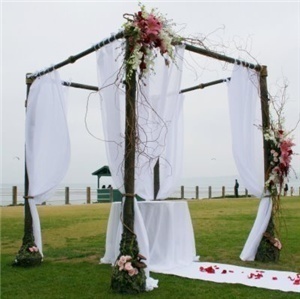 definitely one of the most popular and meaningful. The customs and traditions involving this all-important ceremony vary depending on different factors such as social classes, religions and cultures. However, there are certain elements that can be added to make this kind of special event more colorful. These include the exchange of vows, the wearing of special garments as well as the reading of poems during the ceremony. Furthermore, the use of a wedding arch can make this kind of event look more extravagant. Aside from these things, it is also interesting to know the different sizes of wedding arches.
The Sizes of Wedding Arches
Today, many different manufacturers are offering couples the opportunity to make their weddings more meaningful by adding stylish wedding arches to the picture. One of the most interesting designs is called the square tube arch, which measures 8 feet high and 5.67 feet wide with a depth of about 8 inches. Another design that easily captures the attention of couples is the sweetheart panel arch. It has an overall height of 8 feet and a width of 7 feet. Available in 10 different colors, this product comes with four arch legs, a couple of panels and a single top.
For those who prefer to use a traditional arch, things can never go wrong with the classic arch design. Although the design is relatively simple, it creates an elegant effect that sets everyone in a romantic mood. It measures 7 feet wide and stands 8 feet tall. For people who are looking for something grand, it is good to try the 10-foot wide column arch. It comes with a detachable design comprised of two column extensions and a couple of column bases. It measures 10 feet high, 10 feet wide and 15 inches deep.
For garden-themed weddings, the right kind of arch is the florist-style arch. In addition to its simple appearance, many people love it because of the easy-transport design. It is also flexible to be used for both indoor and outdoor settings. Also available in 10 different colors, it measures 9 feet high, 6 feet wide and 6 inches deep.
In case you are looking for something practical, elegant and traditional, it is nice to try multiple arches. Each set comes with a medium-sized arch top, a couple of small arch tops and four column extensions. Additionally, expect to find four column bases for better stability. This type of arch is recommended for grand weddings. It measures 10 feet high, 20 feet wide and 15 inches deep.