Size of Columbia University
The Columbia University in the City of New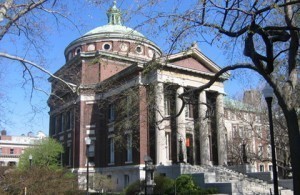 York is one of the educational institutions affiliated with the Ivy League. The institution was established by George II of Great Britain in 1754. The university's campus can be found within the Morningside Heights neighborhood at Manhattan, New York City. The school is the sixth oldest university in the U.S. The university annually awards the Pulitzer Prizes. The notable affiliates and alumni include United States President Barack Obama as well as Georgia President Mikheil Saakashvili. To know more about the size of Columbia University, it is best to look at the total population of students and faculty of the school.
The Size of Columbia University
The size of the educational institution can be identified by looking at the total area occupied by the campus. The campus occupied 299 acres or 1.23 square kilometers. The Morningside Heights Campus covers 36 acres or 0.15 square kilometers while the Baker Field measures 20 acres or 0.09 square kilometers. The Medical Center occupies 157 acres or 0.64 square kilometers. The total area covered by the Lamont-Doherty Earth Observatory is 60 acres or 0.25 square kilometers.
Another way of measuring the size of the university is by looking at the population of students and faculty members. The population of postgraduate students is 15,985 while the estimated number of undergraduate students is 6,978. The total number of faculty members in the school is 3,566.
Additional Information and Other Important Details
The university has three undergraduate divisions, namely the Columbia College, the Fu Foundation School of Engineering and Applied Sciences as well as The School of General Studies. In addition to these, the university has several institutions for postgraduate students. These include the Columbia Law School, the Columbia Business School, the College of Dental School, the School of Nursing and the Graduate School of Journalism.
In order to improve the skills of students in other fields, the university retains its affiliation with other educational institutions in the country such as the Union Theological Seminary, the Barnard College and the Julliard School. Because of the excellent academic programs offered by the school, the Columbia University ranked 11 in the THES-QS World University Rankings in 2009.
To help high school students improve the chance to be admitted in the outstanding universities in the U.S., the Columbia University offers a Summer Program for High School Students. Another program the students will find very beneficial is the Science Honors Program. These programs are very helpful for competitive students who are interested in enrolling at the university.