What is the size of South Dakota?
Known as the U.S. state which was named after American Indian tribes Lakota as well as Dakota Sioux, South Dakota is found in the Midwest region of the country. The state is divided into three regions, namely the eastern region, the western region and the Black Hills. The longest and largest river in the place is the Missouri River. Other rivers that can be found are the White, Big Sioux, James and Cheyenne rivers. In order to know more about this place, it is best to start with identifying the size of South Dakota.
The Size of South Dakota
What is the size of South Dakota? The size of the state can be determined in terms of territory and population. The total area covered by South Dakota is 199,905 square kilometer while the width of the place is 340 kilometers. The state's length is 610 kilometers. Harney Peak is the highest peak in the place with a height of 7,244 feet. On the other hand, the lowest point is the Big Stone Lake with a depth of 966 feet. Finally, the mean elevation in the state is 2,200 feet.
Another way of determining the size of this place is by population. Ranked as the 46th most populous state in the U.S., the estimated population in 2008 is 804,194. The population density in the place is 4.05 per square kilometer. The ancestry groups present are Norwegian, Native American, Irish, German and English.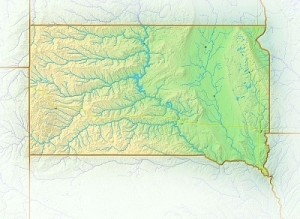 Additional Facts and Other Interesting Details
South Dakota ranked 26th among other U.S. states in terms of per capita personal income in 2008. One of the contributors to the improving economy in the place is the service industry. Other industries present are the health care, finance and retail industries. Aside from these, the agricultural sector contributes to the economic state in the state.
Tourism is also important to the economy of South Dakota. The place features different attractive and relaxing sites to see such as the Wind Cave National Park and the Badlands National Park. In addition to the national parks, people can also view monuments like the Jewel Cave National Monument. When it comes to historical sites, tourists can find the Lewis and Clark National Historic Trail, the Missouri National Recreational River and the Minuteman Missile National Historic Site in the place. Finally, people can spend time at natural attractions like lakes including the Lake Francis Case, Lake Sharpe as well as Lake Oahe.