Sydney Opera House Dimensions
Known as an expressionist-style performing arts center, the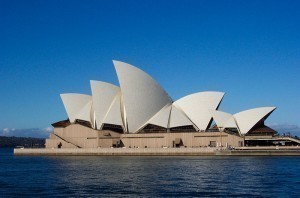 Sydney Opera House is situated right within Bennelong Point, which is part of the City of Sydney in New South Wales, Australia. Danish architect Jorn Utzon conceived the design of the building. In 2003, he was awarded with the highly prestigious Pritzker Prize for such impressive work. On June 28, 2007, it became a UNESCO World Heritage Site. Besides these important details, there are more to know about it including the Sydney Opera House dimensions.
The Dimensions of the Sydney Opera House
The total area covered by the Sydney Opera House measures 4.5 acres or 1.8 hectares. It has a length of 605 feet or 183 meters, while its width is 388 feet or 120 meters. Approximately 588 concrete piers were used to serve as its support. The Concert Hall has a total capacity of 2,678, while the Opera Theatre can seat 1,507 people. The Drama Theatre has 544 seats, the Studio features a maximum capacity of 400 and the Utzon Room can accommodate more or less 210 individuals.
Additional Facts and Other Interesting Details
One of the major features of the Sydney Opera House is the stylish and state-of-the-art roofing. It made use of 1,056,006 Swedish-made tiles with matte cream and glossy white colors. Additionally, it also features a number of significant interior surface treatments that include brush box glulam, Australian white birch plywood and off-form concrete.
Right inside this building, people can find several performance venues. One of them is called the Forecourt, a venue that is both open air and very flexible. In fact, it offers different kinds of configuration options, which allow special occasion performances, live sites as well as community events. Other notable facilities available inside are the end-stage theatre called the Playhouse as well as the proscenium theatres called the Drama Theatre and the Opera Theatre.
The Sydney Opera House can also accommodate social functions, ceremonies and conferences. Furthermore, it also houses a guided tour operation, four souvenir shops and five fine dining facilities. The building was formally competed in 1972, the total cost of which was $102 million. In 1957, the original cost estimate for this particular project was only $7 million. The construction of the building was divided into three major stages. The first was the podium, the second was the roof and the third was the interiors.
On October 20, 1973, the Queen of Australia Elizabeth II opened the Sydney Opera House formally. This wondrous occasion was televised, which also featured a very large attendance. The opening ceremonies included a beautiful performance of the Beethoven's Symphony No.9 and various firework displays. Before the opening, Sergei Prokofiev's War and Peace was performed inside the Opera Theatre.