How High is Mount Gasherbrum?
As a remote group of peaks,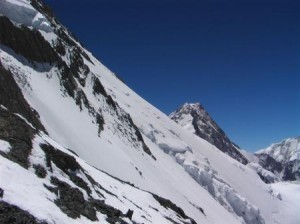 Gasherbrum can be found right at the northeastern side of the Baltoro Glacier in the Himalayas. It is part of the large mountain range called Karakoram. Its massif features three 8,000-meter peaks. In Balti, its name literally means 'beautiful mountain.' It features seven different peaks, namely Gasherbrum I, Broad Peak, Gasherbrum II, Gasherbrum III, Gasherbrum IV, Gasherbrum V and Gasherbrum VI. Aside from these facts, it is important to learn other details about this place including the height of Mount Gasherbrum.
The Height of Mount Gasherbrum
How high is Mount Gasherbrum? Mount Gasherbrum features seven major peaks with different elevations. Gasherbrum I is the highest peak, which measures 26,509 feet or 8,080 meters high. Meanwhile, Broad Peak is the second highest amongst this group of peaks, the height of which is 26,400 feet or 8,047 meters. Gasherbrum II has a height of 26,360 feet or 8,035 meters, Gasherbrum III measures 26,089 feet or 7,952 meters and Gasherbrum IV stands 26,001 feet or 7,925 meters high. In addition, Gasherbrum V has a height of 23,448 feet or 7,147 meters while Gasherbrum VI measures 22,897 feet or 6,979 meters high.
Additional Facts and Other Important Details
In 1856, a lieutenant of the British Royal Engineers named Thomas George Montgomerie found a group of high peaks within the Karakom area in the Himalayas. He labeled the peaks with the symbols K1, K2, K3, K4 as well as K5. The letter 'K' stands for the word 'Karakom.' Nowadays, people no longer use these symbols except when referring to the world's second highest mountain, which is K2. K1 is now called Masherbrum, K3 is addressed as Broad Peak and K4 is called Gasherbrum II. Furthermore, K5 is now known as Gasherbrum I.
Gasherbrum I is found along the border of China and Pakistan. It is considered as the 11th highest peak in the world today. After that, Broad Peak ranks 12th overall in terms of elevation. In the Gasherbrum massif, Gasherbrum II is the third highest. It extends to China's Xinjiang area and Pakistan's Gilgit-Baltistan.
Gasherbrum III can be found at the middle Gasherbrum II and Gasherbrum IV. It is not considered an independent mountain because it failed to reach the topographic prominence of 500 meters. As the sixth highest mountain in Pakistan, Gasherbrum IV is high enough to make it as the 17th tallest mountain in the world. Gasherbrum V has a topographical prominence of 573 meters.