Wat Traimit was once just one of the hundreds of Buddhist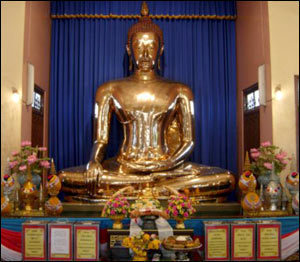 temples that stood in Bangkok, Thailand. There was otherwise nothing so remarkable about it. And no one would have thought that the 3-meter (10 ft), 5.5-ton Buddha statue found there was special either (save maybe for its size), were it not for a fortuitous accident.
The Buddha, known as Phra Sukhothai Traimit or Phra Phuttha Maha Suwan Patimakon, is believed to have been made in the 13th century, during the time of the Sukhothai period (which lasted from 1238 to 1438). However, there appear to be no known written records to verify this. The statue is also thought to have originated from the Thai city of Ayutthaya.
In the latter part of the 18th century, as the city was being besieged by Burmese invaders, King Rama I ordered all important Buddhist icons removed to keep them from being destroyed. The statue was concealed in plaster to hide it from the enemy and sent to the temple of Wat Phraya Krai in Bangkok, which by then had been declared the new Thai capital.
Wat Phraya Krai would eventually become dilapidated, and sometime during the early 1930's, it was to be demolished. The plaster-covered Buddha statue was discovered in the abandoned temple and moved to Wat Traimit, a minor pagoda located in Bangkok's Chinatown. The temple's abbot would then inquire with other temples and monasteries if they might be interested in acquiring the statue, but no one was interested due to its plain appearance and immense size. So the statue remained in Wat Traimit, placed under a modest tin roof for 20 years.
In 1955, it was decided to move the massive Buddha into a new building. As the statue was being hoisted with a crane, its cable accidentally broke, causing the statue to fall into the mud. The workers considered the incident as a sign of bad luck and abandoned the fallen Buddha on the ground. As if to confirm the workers' superstitions, a heavy storm occurred that night which flooded the entire city.
The following morning, the temple abbot went to check on the fallen statue and found that the heavy rainfall had caused its plaster covering to crack. Clearing away the plaster and mud, the abbot discovered that the supposedly plain-looking Buddha was in fact made out of solid gold.
Since then, the Golden Buddha of Wat Traimit has become one of Thailand's greatest cultural treasures, giving renewed significance to the once-commonplace temple. Measuring 3.10 m across its lap from each knee, 3.91 m from top to bottom, and made of approximately 83% pure gold, it holds the record for being the biggest solid gold statue in the world.