Defined as a digital keyboard device that comes in a piano-style, the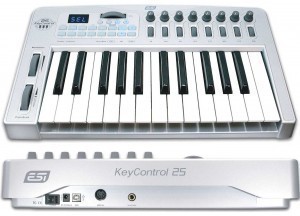 MIDI keyboard sends MIDI commands or signals to other devices belonging to the same interface. The acronym 'MIDI' stands for the protocol called Musical Instrument Digital Interface. Primarily, it does not create sound. Its basic function is to send MIDI signals to a module with the capacity to reproduce digital samples or sounds resembling standard analog music instruments. Aside from these facts, it is also interesting to find out the different MIDI keyboard sizes.
The Sizes of MIDI Keyboards
One of the leading brands of high quality MIDI keyboards is Korg. It offers the K Series USB-MIDI controllers designed for use in music studios. The smallest in this product line is the K25, which measures 19.25 inches wide, 8.70 inches deep and 2.72 inches high. It only weighs approximately 1.5 kilograms or 3.31 pounds. The next product is the K49, the physical dimensions of which are 32.20 inches by 8.70 inches by 2.72 inches. In terms of weight, it is heavier at 2.4 kilograms or 5.29 pounds. The biggest in this line is the K61, the height of which is 38.66 inches, the width is 8.70 inches and the height is 2.72 inches.
Another topnotch brand of MIDI keyboards is M-Audio. It features the Axiom product line comprised of various innovative designs, one of the most interesting of which is the Axiom 49. Its dimensions are 31.9 inches by 11.2 inches by 2.6 inches. It weighs 4.5 kilograms or 10 pounds.
Additional Facts and Other Interesting Details
The MIDI keyboards under the K-Series are packed with numerous interesting and highly convenient features. Amongst the various assignable controllers found on these products are a couple of buttons, two knobs the ClickPoint. Aside from these, you can also find a footswitch jack, a modulation wheel and a pitch bend wheel. The octave shift is comprised of buttons to perform up and down options.
These Korg K-Series MIDI keyboards are also capable of producing an assortment of sounds like the honky tonk piano, standard piano and grand piano. Aside from these, they can produce the sounds of the church organ, jazz organ and vibraphone. The specifications of the M1 Le Software Synthesizer include 33 different effect types, 144 PCM waveforms as well as 32-note polyphony. Each of these products is also equipped with four outputs, the Realtime MIDI control and 200 presets, which are further subdivided into 100 combinations and 100 programs. Moreover, they are velocity sensitive with four velocity curves and a full-size keyboard.