Sizes of Plus Size Costumes
Dressing up in a costume when you are a plus size woman can be quite tricky. But it is no more difficult than dressing up if you have a supermodel body type. It is but the same things. You just have to choose the right kind of dress based on three factors: the size, the style, and the price.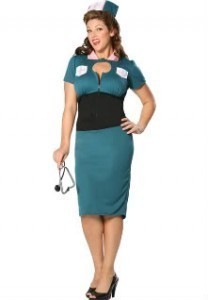 Size is the most important consideration. You should choose a size that fits you right. Remember that you need to be comfortable in your costume to be able to make a nice projection.
Secondly, there is the style. You should look for a costume style that is not only appropriate to the event you are going but is also well shaped to fit your body type. You have to understand your body types so you know what to emphasize and what to hide. Some have bigger buttocks, some lack shape in their behinds. Some have big thighs, some have slimmer legs. No matter what kind of body type you have, there will surely be a dress that is right for you.
Third, there is the price. Of course, you must choose a price that you can afford. Yes, a costume purchase may be important but if you are going to break the bank for it, it probably is not a wise purchase.
Dressing-up Tips
Plus size women, whether shopping for costumes or other types of outfits cannot seem to get over the plus-size phrase and decide to go for the shapeless outfits that they can get their hands on.
For all you know it, every individual has a right to dress up in style, no matter what size you may be. You can easily find a wide variety of costume styles in different sizes to fit even those who are not blessed with the hourglass shape.
You can start your search online. The Internet has a variety of resources that offer astounding options for the online shopper. You can look through the options you have and, if you are convinced it will fit you perfectly, can book for it and just wit for it to be delivered on your doorstep.
In case you value the opportunity to try out the costume or clothing piece, you can drive down to a department store to see your options and be able to try them one by one.
When attending costume parties, it is not just important that you are able to choose a costume that fits your personality. It is also important that you are able to find the perfect size and style, which will make your dressing up worthwhile.