When it comes to shopping for the baby's needs, it is important to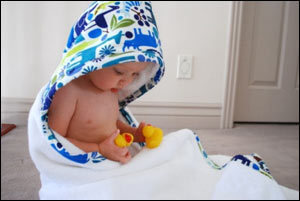 check all the details of the product to ensure that you will be getting items that are safe for babies.
This is particularly important for items that you will directly use on the baby such as clothing, hygiene products and bath essentials. You should likewise check that the sizes of the clothes and other items are appropriate for the baby to avoid accidents.
Towel Sizes for Babies for instance should just be right dimensions suitable for your baby's age and size. This will ensure that your baby will be wrapped properly after every bath without fear of suffocating him or her. A larger towel might accidentally cover the baby's face without you immediately noticing it.
What Towel Sizes for Babies are Available Today?
Choosing Towel Sizes for Babies largely depend on the baby's age and size. There are sizes suitable for newborn babies and there are also sizes that are suitable for babies six months and over.
Towel Sizes for Babies available today are somewhere between twenty-seven inches by forty-four inches to twenty-nine inches by twenty-nine inches up to thirty inches by thirty inches.
Finding the Right Towel
To help you find the right towel for your baby, there also other factors that you should consider.
Material

Aside from looking at Towel Sizes for Babies, you should also check the materials used in making the towel. Since the baby's skin is sensitive, it is important that the materials are hypo-allergenic to prevent rashes and other skin irritations from developing.
100% cotton provides the right kind of softness plus absorbency to quickly dry the baby after every bath. Parents are also now choosing to go with organic materials since these are not only hypo-allergenic; they are likewise environment-friendly, made from sustainable materials.
Style and Design

Baby towels usually come with hoods so you can easily dry the baby's hair and also keep the head from getting cold after bath.
To make bath time more fun and interesting, you can choose towels designed with fun character and playful prints that will instantly appeal to the baby. There are Towel Sizes for Babies that come with specific designs suitable for boys and girls.
Little ducks are among the most popular prints on baby towels. There are also butterfly designs and flower prints for girls; lions, dogs and other animal prints for boys plus Gingham designs that are suitable for both boys and girls.
You can find available towels for infants including the different Towel Sizes for Babies right on the internet. Online, you can look at all the prints available to help you choose designs plus you can also purchase these for an easier way of shopping for the baby's bath essentials.