The Size of a Giraffe
The height of a giraffe ranges from 14 to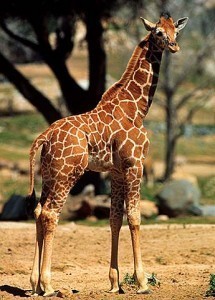 17 feet or 4.3 to 5.2 meters. Male giraffes weigh about 2,830 pounds or 1,191 kilograms. Female giraffes are about 800 pounds lighter at 1,830 pounds or 828 kilograms. The tallest giraffe ever measured was a male giraffe that stood 20 feet tall, or almost 6 meters high. She is about 550 to 1,180 kilograms heavy, or 1,200 to 2,600 pounds. The giraffe coat is a pattern of medium brown patches of hair surrounded by a lighter color.
Giraffe Location and Habitat
Giraffes are among the most recognizable of all wildlife in the African savannah. They are native to Central and South Africa where they are seen in grasslands, savannahs and woodlands. Giraffes are herbivorous. Their long necks help them get food in tall trees. These creatures are built for life in the harsh African plains. Capable of drinking plenty of water where it's found, giraffes can last for long periods in hot and dry areas.
Giraffe Anatomy
Height and Weight
The size of a giraffe on average is as follows. The average male giraffe grows to up to 18 feet in height, or 5.5 meters. He can weigh anywhere from 800 to 1,800 kilograms or 1,800 to 4,300 pounds. The female giraffe is considerably smaller. She averages at 13 to 15 feet high or 4 to 4.5 meters.
Horns
Both male and female giraffes have horns. The female's horns are smaller and typically have some hair on top. Males lose the hair on the horns as a result of combat with fellow males. Thus horns are helpful in male and female giraffes. Another clue is that some older males grow a hump of calcium deposit on their heads, giving the look of an extra horn.
Neck
The most characteristic feature of a giraffe is its neck. Although it is much longer relative to the rest of its body, a giraffe's neck has only seven vertebrae just like in most animals (including humans). Giraffes use their long necks to forage for leaves high up in trees out of reach of other animals.
Legs
It may look awkward but the size of a giraffe makes it a powerful against other animals. They can run up to 55 kilometers per hour for short periods. In the savannah, the only animal that can threaten a giraffe is the lion. Lionesses hunting in a group can throw a giraffe off balance. But the giraffe is dangerous even when down. A kick from one of its long legs can instantly kill a lion.