The world's biggest cruise ship is the Allure of the Seas. It is 361.8 m (1,187 ft 0 in) long with a 225,282 GT. It is owned and operated by Royal Caribbean International.
Allure of the Seas Specifications
The beam is 60.5 m (198 ft) extreme, 47 m (154 ft) waterline. The draught is 9.3 m (31 ft). It is 72 m (236 ft) high over the water line. The approximate displacement is 100,000 tons. The depth is 22.55 m (74 ft) and the draught is 9.3 m (31 ft).
There are sixteen passenger decks. The power comes from 6× 97,000 kW Wartsiia diesel engines. It has 4 × 5.5 MW Wartsiia CT3500 bow thrusters and 3 × 20 MW Asea Brown Boveri Azipod propulsion.
Speed and Other Technical Information
The biggest cruise ship has a speed of 22.6 KN (41.9 km/h; 26.0 mph). The capacity is 6,300 passengers for all berths. For the lower berths it is 5,400 passengers. The Allure of the Seas was launched on November 20, 2009. Its maiden voyage was on December 1, 2010. It cost USD 1.2 billion (EUR 800 million) to build.
Design and Construction of the Allure of the Seas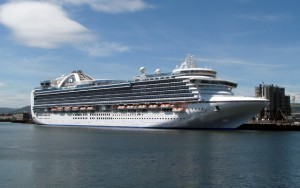 It is the sister ship of the MS Oasis of the Seas. The two are currently the longest active cruise ships. The Allure and the Oasis were supposed to be the same length. However, a design anomaly made the Allure longer by two inches.
The Allure of the Seas was made under the code name Project Genesis. It was ordered in February 2006. Work began in February 2008 in Turku, Finland. The keel was set on December 2008.
Next to the Allure of the Seas is of course the Oasis of the Seas. Except for being two inches shorter, the dimensions are the same. The Queen Mary 2 is next. It is 1,132 ft long.
At number four are the Freedom of the Seas, Liberty of the Seas and Independence of the Seas. They are 1,111.9 ft long. At number five is Norwegian Epic. It is 1,081 ft. long. The Navigator of the Seas is 1,020 ft. long.
Sometimes the biggest cruise ship is defined by gross tonnage rather than length. In this case, the Allure of the Seas and Oasis of the Seas would be tied. They both have a 220,000 GT. The Freedom of the Seas has a GT of 154,407.