Since it came out after World War I, various jig borer dimensions have appeared.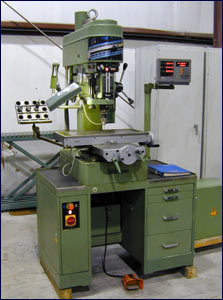 Their features have also changed and improved through the years.
Yasda Precision YBM-Vi40 Jig Borer
The YBM-Vi40 jig borer is a five axis jig borer that can perform highly accurate mould and die machining. Compared with the thee-axis jig borers, the machining time is reduced with the five axis model. The cutting feed rates are 2,000 mm/min and the surface roughness is 0.25 micron Ra.
By comparison, the three-axis machines have 400 mm/min feed rates and 0.90 micron Ra. The spindle speeds can reach 24,000rev/min. The traverse rates are 100rev/min (C axis), 20m/min (X, Y and Z axis), or 20rev/min (B axis). The unit is designed for accurate work.
The unit also has an integrated rotary B/C axis on the Y axis. This improves the control. At the same time, the five axis jig borer dimensions and design mean the weight disparity of the axis movable bodies are reduced.
The travel speeds are 450 mm (Z axis), 500 mm with limitations (Y axis) and 900 mm (X axis). The working table surface is 400 mm in diameter. The load capacity is 200 kg.
What is the Jig Borer?
The tool was invented after World War I to find hole centers. It is also used to drill openings. The tool can be seen as a type of milling or boring machine. In fact it is classified as a kind of drilling machine. The machine can also be used to drill openings in dies and jigs.
The jigs are a kind of tool that is utilized to verify the setting and tool motion. This helps in the duplication and production of a component of the manufacturing procedure.
For instance, the drill jig can be used to drill several holes in specific locations. The tool is utilized mostly by metalworkers, craftsmen and woodworkers. Some of the jigs are known as templates.
The functions of the jig borer can remove the need for the drill jig. The reason is its versatility. The tool can space holes, drill and locate holes. The tool can also be used after holes are created in a material.
The various jig borer dimensions mean it can be confusing for a fist time buyer. To steer clear of mistakes, it is a good idea to assess your project needs first. This step will save you a lot of trouble when using the tool.