The University of Chicago (also known as the U of C or the UChicago) is one of the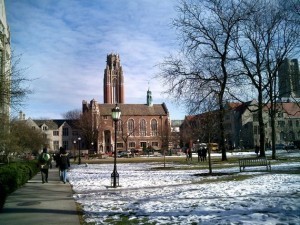 coeducational private research schools in the United States. This educational institution was founded by in 1890 by oil magnate John D. Rockefeller. With the aim of improving human life, the university allots budget for scientific research. Many students strive hard to be admitted in this institution because the school has a strong reputation of dedication to intellectualism as well as academic scholarship. To know the size of the school, it is best to look at the population of students and faculty in the University of Chicago.
The Size of the University of Chicago
How big is the University of Chicago? The school campus covers 211 acres or 85 hectares of land. Within the premises of the school, students can find modern buildings and structures including the Snell-Hitchcock, the Henry Hinds Laboratory, the Rockefeller Chapel as well as the Gerald Ratner Athletics Center. Historic structures in the campus include the Chicago Pile-1, the Robie House and the George Herbert Jones Laboratory. Aside from the campuses in Chicago, the institution maintains campuses in other places like the Booth School of Business in London.
To determine the size of the university, we can also look at the number of undergraduates and postgraduates in the school. The estimated population of undergraduates is 5,000 while the population of graduates is 9,000. The population of the members of the faculty is 2,168 and the staff population is approximately 14,722.
Additional Information and Other Important Details
The University of Chicago has 14 academic programs, which include the Biological Sciences Division, the Booth School of Business, The College, the Divinity School, the Graham School of General Studies, the Harris School of Public Policy Studies and the Humanities Division. In addition to these programs, the school offers summer sessions and laboratory schools to enhance the understanding of students on natural sciences and social sciences.
For the convenience of students, the school features six libraries with 7.9 million volumes. The largest library in the university is the Regenstein Library, which features print volumes. Books and other reading materials about general science, physical science, biology and medical science are available at the John Crerar Library. To enhance human life, the educational institution spent $305,301,000 in 2006 for empirical research. The campus features numerous research centers and institutions including the Oriental Institute, which focuses on studies related to the culture and life of people in the Near East.