United States Capitol Dimensions
Found in Washington, D.C., the United States Capitol is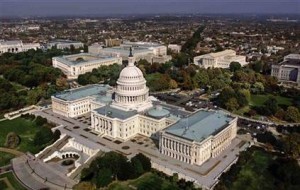 one of the most significant edifices in the world that is both symbolic and architecturally impressive. The House of Representative and Senate of the United States have both housed on this building for more than two centuries already. The construction of the capitol started in 1793 and since then, it has been constructed, burnt, reconstructed, expanded, and restored. At present, the United States Capitol serves as a memorial to the people of the United States and their government as well as to the builders of the building.
Dimensions
The United States Capitol covers a ground area of about four acres or 175,170 square feet. The floor area of the building is estimated to 16.5 acres. The length of the capitol going from north to south is about 751 feet and four inches. Its maximum width is 350 feet and that includes the approaches. The height of the building starting from the top of the base line on the east front going to the highest portion of the Statue of Freedom is 288 feet. There is an ascent of 365 steps beginning from the basement floor going to the top of the dome of the building. The United States Capitol has about 540 rooms and 658 windows wherein 108 of those windows are located in the dome. The number of doorways in the building is estimated to 850.
Different Levels of the Capitol
There are five levels within the United States Capitol. The first level is the ground floor where you can find the committee rooms and office spaces that are designated to different officers in the Congress. There are public areas in this level where visitors can take a tour. These are the Hall of Columns, the restored Old Supreme Court Chamber, the Brumidi Corridors, and the Crypt lying just under the Rotunda where you can find historical displays.
The second level of the United States Capitol holds offices of the congressional leadership. On the north wing is the Chamber of the Senate. On the south wing is the Chamber of the House of Representatives. There are three main public areas in the second level. These are the Rotunda, the National Statuary Hall formerly Hall of the House, and the Old Senate Chamber.
The third level of the United States Capitol provides access to visitors to various galleries wherein they can observe the proceedings of both Senate and House when they are in session. Aside from these, the third level also housed various committee rooms, offices, and press galleries.
The fourth level and the basement or terrace level of the United States Capitol mainly holds machinery rooms, workshops, offices, and other support areas.