Banner ads have a come a long way since the Internet Age came into the picture decades ago. There used to a time when banner ads were restricted to the ones you see hanging on an establishment's walls and doors; or standing in front of a business establishment with the help of X-stands.
These days, banner ads would often refer to ads placed on websites; on top of a web page, at the sides, or on the bottom part of the page.
For your reference, take a look at standard banner sizes both for land-based advertising as well as internet advertising. You may want to use both types for your future advertising campaign.
Web Banner Ads
Web banner ads are those that you see displayed in various sites on the internet. These come in different dimensions, from a leaderboard ad to a button ad. The sizes are determined by pixel size.
Leaderboard ads come in sizes of 728 by 90 pixels. These are usually spread-out across the top of a web page.
Full banner ads usually come in dimensions of 468 by 60 pixels.
Half banner ads are 234 by 60 pixels.
Full vertical banners come in two dimensions. These are usually placed on either side of the web page. The smaller vertical banner is about 120 by 600 pixels while the bigger one is around 160 by 600 pixels.
Half vertical banners are 120 by 240 pixels.
Other sizes are rectangular ads which come in the following pixel sizes: small, 180 by 150 pixels; medium, 300 by 250 pixels; and large, 336 by 280 pixels.
There are likewise button ads, which measure 88 by 31 pixels for the smallest size; 120 by 60 pixels for the medium one; and 120 by 90 pixels for the large one.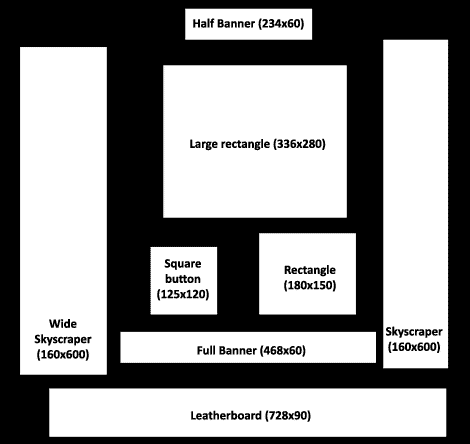 Vinyl Banner Ads
For ads placed in land-based establishments, there are horizontal banners and vertical banners. Usual sizes for the horizontal banners start at two feet by four feet.
There are also three feet by three feet banners; four by four feet ads and five by five feet banner ads. For vertical banners, the sizes here usually start at four feet by three feet up to ten by five feet banners.
Whatever banner ad you decide on, it is very important that you carefully choose the design of your banner to enable you to attract the right market.
There are professional designers that you can hire to help you with the designs of your ads, including coming-up with the right copy that will give your market an idea of what you're all about.