Emergency Exit Size Requirement
The emergency exit size requirements will vary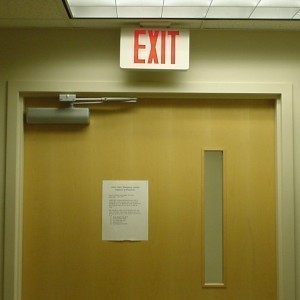 depending on the building codes. There are exits for the buildings, airplanes and various other establishments. This means the specs and requirements will differ. The following are the specs for emergency exits in workplaces.
Number of Emergency Exits Required
A workplace usually needs to have at least two exits. This is to allow employees to make quick exits. However the number of exits should also be determined by the number of employees and the dimensions of the edifice. The arrangement of the building should also be determined.
The ceilings have to be at 7 ft 6 in high. Access has to be at least 28 inches wide. This is for every point.
The exit must be as far away from each other as practically possible. Whatever the emergency exit sizes may be, the spacing will be important. The reason is that in case one exit gets clogged by smoke, the other one may still be used.
A single emergency exit may be used if all the employees can get to
it quickly and safely. The size of the exit, however, should be sufficient for people to get through easily. If there's only one exit, the exit width and the exit discharge need to be as wide as the exit access at the very least.
Design Specifications
The exit routes need to be permanent components of the building. All the exit places need to end up onto a street. It can also lead to a walkway, open space or refuge area. In addition, the emergency exit size should be big enough to allow the occupants to leave comfortably.
If the exit stairs must continue past the level where the exit discharge is, it must be interrupted by partitions. All the doors, no matter what their width is, have to be unlocked inside. The door must be devoid of any alarms that could impede its use in the event the alarm fails to work.
The side hinged doors need to be connected to exit rooms. The doors have to swing at the direction of exit travel provided the room is prone to hazards. The same rule applies if more than fifty people are in the room.
In addition, the exits must be able to support the maximum occupant load allowed for the floor. The exit route capacity should not decrease in the exit direction to the discharge.
The emergency exit sizes shown here are for workplaces in the US only. The ones in other areas may differ.