Most Expensive Diamond Ring Ever
The 9 carat Chopard Blue Diamond is the most expensive diamond ring ever. The ring is set on a large blue diamond, oval in shape. It also has diamond shoulders. The 18k white gold band is also layered with diamonds. The price tag? $16.26 million.
Blue Diamonds
Blue diamonds are so expensive because of their rarity. The stone is usually found in baron deposits. It is there that the diamond gets its shade.
Other High Priced Blue Diamonds
Besides the Chopard, there are many other costly diamonds. Majority of them were purchased in auctions. The Elizabeth Collection of House of Taylor Jewelry had a 5.98-carat oval cut diamond ring valued at $1.3 million. It has 3.9 carats of diamonds around it.
The auction house Sotheby's has sold many blue diamonds valued between $4.7 to $4.9 million. One of the most notable blue diamonds sold at Sotheby's was a 6.04-carat blue diamond. Sold in Hong Kong, the price was $7.9 million.
An even more expensive diamond was sold in May 2009 at Sotheby's in Geneva. A 7.03-carat blue diamond was auctioned off for $9.5 million.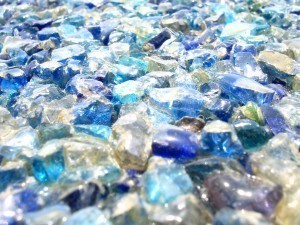 The Chopard is the most expensive diamond ring ever. But there is no agreement as to the most expensive diamond of all time. The value of diamonds can change over time. The worth of the Hope Diamond has been placed at $300-350 million. This would make it one of, if not the, most valuable diamonds ever.
One of the most expensive red diamonds is the .95 carat Hancock Red. In 1987, it was sold for $926,000 per carat for a total cost of $800,000.
How Do You Spot Fake Diamond Rings?
First of all, only buy from reputable jewelers and stores. If the ring is genuine, the people there will be happy to provide you with the details about the diamond. Ask for information about the cut, color, clarity and carat.
Whenever possible, ask if you can examine the stone with the jeweler's loupe. The loupe will let you see any scratches or imperfections on the diamond. Almost all diamonds have some imperfections; this is normal.
An easy way to spot a fake diamond is to check the stone for nicks and dents. Diamonds are extremely strong; if there are dents it is a fake.
Try breathing on the diamond. The fog ought to disappear rapidly if it is genuine. This holds true for the most expensive diamond ring ever and even the more afford able ones.