There are probably as many computer security desk sizes as there are manufacturers. Some laptop desks measure 36" x 30". Others have a 72 inch wide work surface.
The Versa Security Desks are designed for laptop computers. Its main feature is the security locker. The locker can be applied when you are not utilizing the notebook. When it's time to use the laptop, you use the pullout tray.
The desk is fitted with a distinctly designed locking mechanism. Made in the United States, it is made out of extremely durable steel.
The Versa Security Desk has a black working surface and has black frames. Probably the best feature is its adjustable height (29" – 31"). The design also makes it resistant to scratching. There are also grommet holes so cables can be managed easily.
What to Look for in Security Desks
The security desk sizes are very important. No matter how impressive the security features are, it is worthless if you cannot properly fit your laptop on it. The second thing to consider is the height. Ideally it should be adjustable so you are comfortable.
Needless to say, the security features have to be examined thoroughly. The manufacturer's website will provide you with the technical info on the locking mechanism. But don't end your research there.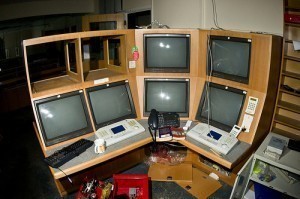 Read some product reviews. This is how you can determine if the desk actually delivers as promised. If you have a particular desk in mind, read reviews about it. If you don't have a specific desk in mind, just read the reviews. You may find what you need there.
Another thing you have to consider is its durability. Can the desk withstand scratches? Will it get dents easily? Is it made for regular, everyday use?
How to Buy Security Desks
Decide where you want to buy. Your choices include office furniture shops, computer stores, local suppliers and online shops. Once you have picked out a product, compare its cost in the different stores.
It's nice to get a cheap desk, but be wary. If the price is too low, the security features may not be effective or not working at all. If your budget is limited, wait for the store to offer sales or discounts.
The importance of security desk sizes cannot be overstated. Unless you pay close attention to it, you will end up feeling very uncomfortable. To keep your laptop safe and be productive, the right desk must be chosen.