The smallest castle in the world is Nunney Castle. It is the size of a large house. However, the curtain wall space between the northeast and southwest towers is only about 3 1/2 feet apart. Even so, the castle has a moat like other fortresses. It can be found in Somerset, England.
Nunney Castle was constructed in 1373 by John DeLa Mare, the future sheriff of Somerset. The design is heavily influenced by French architecture. Exactly how the builder was influenced is not clear. But it was probably due to the Hundred Years' War.
Based on the castle design, it would seem to be based on the Bastille in France. The fortress consists of a tower house with drum corners on the side. The tower house has a rectangular shape.
The castle is encompassed by a moat. The moat was damaged but was renovated during the 20th century. The original moat was large. In the original design, water extended to the castle walls.
The smallest castle in the world had a kitchen located on the ground floor. Archeologists who examined the site discovered the remains of a side oven and fireplace.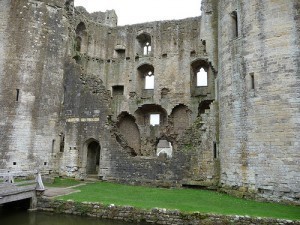 At the base of the towers, storage facilities were unearthed. At one end, a well was found. The servants' rooms are in the tower's first floor. At the second floor, the Great Hall can be found.
The Lord's Solar is at the third floor. Based on studies, the upper floors were used for accommodating guests. On the southwest tower, a chapel can be seen.
At the time of the English Civil War (1642-51), the castle was controlled by Col. Richard Prater. In 1645, the castle fell to Fairfax, who commanded Cromwell's group at the Battle of Nunney. After two days of fighting, Cromwell's group cannoned a hole in the castle's north wall. The castle fell to Cromwell.
From that point on, the castle was never inhabited again. The floors were taken off or burned. However, the towers, moat and walls were not destroyed. The damaged wall finally crumbled in 1910. The end result is the large void you can see today.
The smallest castle in the world would become William Paulet's
property. Nunney Castle would go through numerous owners. The castle can be found in Nunney, Somerset. It is close to A361 between Shepton Mallet and Frome. The nearest populated places are Wanstrow to the south and Frome to the east.