What is the size of Minnesota?
The size of Minnesota is 86,943 sq miles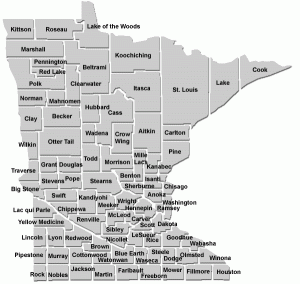 (225,181 sq km). It is 200 to 500 miles (320 to 560 km) wide and 400 miles (640 km) in length. The state capital is St. Paul.
Geographical Information
8.4% of the area is water. The latitude is 43 degrees, 30' N to 49 degrees, 23' N. The longitude is 89 degrees, 29' W to 97 degrees, 14' W. In terms of elevation, Eagle Mountain is the highest at 2,301 ft (701 m). The lowest is Lake Superior at 601 ft (183 m). The mean is 1,198 ft (365 m).
The state has 11,842 lakes that measure over 10 acres (.04 sq km). Lake Superior is the biggest at 962,700 acres (3,986 sq km). Minnesota possesses 7,563 natural rivers and streams. Collectively, the rivers flow 69,000 miles (111,000 km).
The size of Minnesota's wetlands has been estimated to be at 10.6 million acres or 42,900 sq km. It is the biggest of any state except Alaska. The state forests number 58 and cover an area measuring four million acres (16,000 sq km).
Population and Ancestry
The earliest census records date from 1850. They stated the population back then was only 6,100. Within fifty years, the population increased to 1.7 million. A 15% population increase was experienced during the next six decades.
Growth during the 1970s was estimated at 11%. Minnesota's population as of 2008 was estimated to be 5,220,393. The density is 65.3 sq mi / 25.21 sq km. Its population size ranks 21st in the US.
Based on the size of Minnesota's population in 2008, 88% were white Americans, 4.5% African Americans, 4.1% Hispanic, 3.5% Asian Americans and the rest divided among other races. The ancestry records showed 37.9% were German 16.8% Norwegian, and 11.7% Irish. The rest are divided among the English, Polish, French and other nationalities.
Major Cites (2005 Estimates)
The biggest city in terms of population is Minneapolis with 387,970 inhabitants. St. Paul is next with 287,151 followed by Rochester with 100,845.
Bloomington has a population of 85,832; Duluth is next with 84,167, while Brooklyn Park is sixth with 71,048. Plymouth has a population of 70,455; Eagan has 66,709 inhabitants, followed by St. Cloud with 64,232.
A look at the size of Minnesota's cities will show Coon Rapids' population was estimated to be 63,480; Burnsville is next with 61,262; Eden Prairie with 60,955 and Maple Grove with 58,420.
Woodbury's population has been estimated at 54,091, Blaine at 54,020, Lakeville with 51,722 and Minnetonka with 51,657. Apple Valley is the 18th most populated with 48,988 inhabitants. Edina
has 47,448 residents and St. Louis Park is the 20th with 44,380.
Climate
The climate is characterized by hot summers and cold winters. The temperature can go to as low as -60 up to 114 F (-51 to 45 C). The average temperature is 36 F (2 C) and can go up to 49 F (9 C).
The size of Minnesota's population is expected to increase, as its lakes, parks and other natural attractions offer incentives for people to stay.