The Jokhang Temple located in Lhasa, Tibet is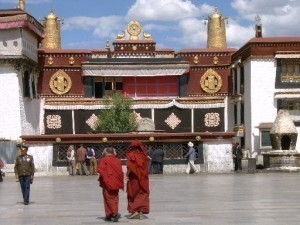 otherwise known as the Jokhang Monastery. It is a famous temple and arguably the most popular tourist attraction in Lhasa today. It is also named as a UNESCO World Heritage Site in the year 2000. This great religious structure has undergone gradual reconstruction since it was built in the year 647 though there are some that argue that it probably was founded in 642.
History
The construction of the Jokhang Temple was promulgated by King Songtsan Gampo. It was then named Rasa Tulnang Tsuklakang, or House of Mysteries in the local vernacular. It is said that valuable Buddhist statues were housed in this temple as dowries for the king's wives.
It was boarded up in the eighth century by King Langdharma. However, Atisha, a famous master of Buddhism, was known to have taught here beginning in the 11th century. From then on, the Jokhang Monastery has been considered as one of the important, if not the most important, temple in the area.
The Jokhang Monastery was so popular that it became a key center of pilgrimage of Buddhists for several centuries. As the years rolled by the Jokhang Temple itself has survived several attacks. Mongols raided the area several times but the compounds and buildings of the temple survived.
Fast Facts
As centuries went by the Jokhang Temple and its surrounding complex has undergone renovation and several changes. The temple complex itself was expanded and today covers an approximate land area of 25,000 square meters. The main temple building itself is four stories high. Interesting enough, the architectural style of the temple reflects influences from China, India, and Nepal.
The temple grounds today is an elaborate labyrinth of many rooms. It is a fact that many of the rooms and areas of the Jokhang Temple have been damaged and consequently rebuilt. However, the original elements including rafters, beams, columns, finials, and doorframes are original and date back to the 7th century.
The main cloister of the Jokhang Monastery is surrounded by prayer wheels which are kept spinning by pilgrims during the day. This would then lead to the main hall of the monastery and eventually to the temple's main attraction – a five-foot statue of Buddha when he was age 12. This is regarded by the locals and pilgrims alike as the holiest object in all of Tibet.
This image was believed to have been brought to the Jokhang Monastery in 641. It is richly bejeweled image and is flanked by various altars dedicated for the king and his two wives. The third floor of the temple complex also has a statue, that of the protector of Lhasa and the Dalai Lama – Palden Lhamo.