Worlds Smallest Bodybuilder
Aditya "Romeo" Dev, as he is fondly referred to, is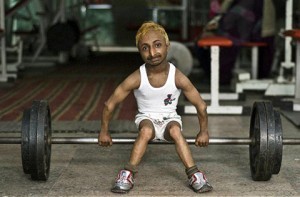 recognized as the world's smallest bodybuilder. It is no small wonder why this huge little man standing 84cm or 2′ 9" has become a hero among men. His quest for a well-built body and any consequent fame coming from such efforts has led to people flocking to the gym not for a work out but to catch a glimpse of Aditya Dev while he works out.
Background
Aditya Dev was born in 1988 in the bustling city of Phagwara in India. His hometown is a busy neighborhood comprised of more than 95,000 people. Though Aditya Dev's hometown has many industries the people still tend to continue the tradition of working in farms for a living. In its bustling streets you'd find the world's smallest bodybuilder roaming around on his three-wheeled bicycle.
He is often described to be one who has his spirits up and would never let hindrances in his life affect him. His family, especially his father, can't be any prouder of his success in and out of the gym. To the many that suffer the same condition as Aditya, he serves as an inspiration. His determination and great heart pushes him to achieve his dreams.
Body Building Work
Aditya Dev has been dubbed, among many others, as a mini muscleman. He does all his weight training under the careful eye of Ranjeet Pal, his trainer. Standing at 84cm Dev weighs no heavier than 20 pounds. But unlike many others with dwarfism, Aditya is rather well proportioned. His head is a good 15 inches with his chest spanning 20 inches. This condition is quite unique is a big boon to the mini muscleman. For weights he uses custom made dumbbells which he fondly use to work shoulder presses. His custom dumbbells weigh 1.5 kilograms.
World's Smallest Bodybuilder
Aditya Dev was recognized by the Guinness World of Records in 2006 as the world's smallest bodybuilder. However, this recognition was not published in any Guinness book. His popularity and fame shot up and caused quite a stir in many UK presses in 2008. Some of the headlines of the time would describe him as a mini-me muscleman or at times as Shortzenegger.
Later Pursuits and Challenges
Aside from being a bodybuilder, Aditya Dev is also an entertainer and a dancer. He is quite popular in his home country making appearances in TV shows and other events. You will surely find one of his videos online with him showing off his dancing prowess. Trouble came in 2008 when doctors diagnosed him with aneurysms, which are serious threats to his life.