The size of a nasal cannula will depend on the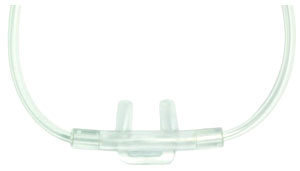 manufacturer's design. Usually, the specs will be indicated in the package or in the website. If the tubing is hooked to a stationary oxygen apparatus at home, the tubing will be about 25 ft long. The measurements will vary though.
How to Use the Nasal Cannula
Step 1

Position the end of the cannula at the projecting tip of the oxygen tank. Place the tubing on either side of the nasal prongs around the ears. Make sure the tubing is positioned high on the cheekbones. You can slide the adjustment ring up or down to modify the fitting. This ring is located at the tubing just below your chin.
Step 2

Put the nasal prongs in your nostrils. These should point down when in your nose. If you feel some uneasiness, apply moisturizer in the nostrils. Sometimes people do feel uncomfortable about the prongs in their noses. This feeling is reported regardless of the size of a nasal cannula.
Step 3

Switch on the oxygen tank. This will let you breathe normally.
Making the Cannula more Comfortable
Those that are wearing curved prongs should make sure the prongs are pointed down to the nostrils. If the fit doesn't seem right, keep moving the slider.
Another way to ease the discomfort is by putting a self-sticking white tape ("hurt free" first aid tape) around the tubing on both sides. This is from the prongs up to the point when the tube is over the ears.
You can also wrap the tape thickly at the sections where the tube touches your face. This technique is used in case the tube puts marks on the face when you sleep. Again, it is important to make sure the tube is situated high on your cheekbones.
How to Remove the Nasal Cannula
Turn off the oxygen flow from the tank. Pull the adjuster so there is room for the tubing to be removed from the face. Take off the nasal cannula from the ears. Now pull the prongs from the nostrils.
Put the prongs on your skin and make certain there isn't any oxygen emanating from it. Check the prongs and get rid of any nasal mucus on it. Clean it according to the manufacturer's instructions.
The guides given here for using and removing the device should work regardless of the size of a nasal cannula. But you should still read the package instructions just to be sure.