Amazon Kindle is a reading device whose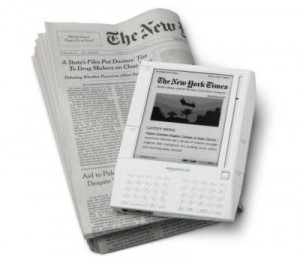 hardware and software platform developer is Amazon.com. It is use as a gadget for displaying and reading e-books and other kinds of digital media.
Dimensions
The display of Amazon Kindle has a diagonal length of six inches and uses E-Ink technology in its display for electronic paper. The pixel resolution of the display is 600 by 800 at 167 ppi with four-level gray scale. The size of the reading device is 7.5 inches by 5.3 inches by 0.7 inches and the weight is only 10.3 ounces. It has an internal storage capacity of 256 Megabytes but an SD memory card slot is available that can support SD memory card capacity of four Gigabytes.
Paper-like Screen
Amazon Kindle displays a crisp black-and-white screen that simulates the readability and physical appearance of printed papers. This reading device does utilize a new technology of high-resolution display known as electronic paper. The display uses ink in such a way that newspapers and books do however the ink particles are displayed electronically. The light reflection in the display is similar to that of the ordinary paper. There is no backlight in the device thus there is no glare in the display unlike other electronic displays. You will be able to easily read from your Amazon Kindle under the sun or inside your room. You can use the reading device as long as you want since the screen will never get hot from long periods of usage.
Carry It Anywhere
Since the weight of Amazon Kindle is only 10.3 ounces, it is quite thinner and lighter compared to standard paperbacks. The entire reading device unit fits perfectly in your hand. You can store hundreds of titles of your favorite e-books and articles and with the availability of SD memory card, hundreds more can be stored easily. It is like carrying your favorite book collection with you all the time.
Ergonomically Designed
Amazon Kindle is designed ergonomically therefore you can hold and use it just like a typical book. It is intended for long-form reading. You can move from one page to another freely due to the full-length and vertical page-turning buttons that are found on both sides of the reading device. Both left-handed and right-handed can navigate and use the unite comfortably with one hand.
Adjustable Text Size
Users of Amazon Kindle have the freedom to increase or decrease the size of the text displays while reading your favorite periodical or book. Just push the button in the reading device and the text size will automatically change to your desired size for your reading convenience.