Sinterklaas is also known as Saint Nicholas and is a popular Christmas figure in several European countries including The Netherlands, Switzerland, Romania and Croatia; and also in the European state of Belgium; among many others.
He looks much like Santa Claus except that his red apparel is more of a priestly garment and he is not quite as fat as Santa. He does have the signature long white hair and beard.
His costume is more elaborate than Santa's, with several different pieces put together. A Sinterklaas costume consists of a miter, capelet, cape, alb or stole, beard, and gloves.
The sizes for the garments are usually large and extra large. Since this costume is hard to find, you may want to consider making one yourself.
Extra Large Sinterklaas Costume
For an extra large costume, you will need about nine and two-thirds yards and forty-five inches of fabric for the miter, stole, cape and capelet.
You will also need fabric for the lining of the garments and for this size, you will need about eight and one-fourth yards and forty-five inches of cloth for the linings on the miter, capelet and cape.
For the stole or alb lining, you will need approximately five and one-half yards and fifty-four inches of cloth.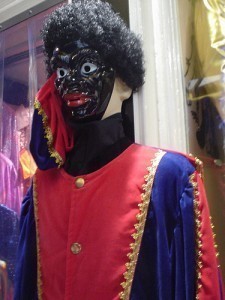 While it may seem complicated to make, there are step-by-step instructions that you can find online that can walk you through the whole process of making your Saint Nicholas costume.
Who is Sinterklaas?
Sinterklaas or St. Nicholas is the patron saint of sailors as well as young children. His feast day is celebrated across the globe on the 5th of December while in the Kingdom of Belgium, his feast day falls on the 6th of December.
It is said that Saint Nicholas actually inspired the Santa Claus character popular all over the world, particularly in the United States.
Tradition has it that kids place their shoes beside the fireplace weeks before his expected "arrival" on the 5th of December. The kids put in carrots or any other food that horses love so Sinterklaas' horse can have something to eat when they visit at night when the children are fast asleep.
The following day, they will find their shoes filled with sweets or other small gifts. This perhaps also inspired Santa Claus' gift-giving to children around the world on the eve of Christmas Day.
Some of the sweets that are usually found inside the shoes are chocolates shaped into the 1st letter of the children's names and chocolate coins.