Size of an Elliptical Trainer
An elliptical trainer is a type of exercise machine that simulates running, climbing up the stairs or walking. This is also called a cross-trainer.
As opposed to treadmills where you step on the platform and run or walk according to the pace setting, an elliptical machine has pedals where you place your feet, one on each pedal, and provides you with a support for your knees as the pedals move.
This is why a lot of people with weak joints choose an elliptical trainer over a treadmill as it gives them almost the same type of workout without putting too much strain on one's knees.
Size of an Elliptical Trainer
The size of an elliptical trainer is pretty much like that of a treadmill although this could be a bit narrower and shorter as compared to more elaborate treadmill designs.
While there are several different brands of elliptical trainers, you will find that their size of an elliptical trainer do not vary to a large extent.
There are elliptical trainers that measure approximately 81.5 inches in length by 27 inches in width by 66 inches in height and these can have anywhere from 18 inches up t0 20 inches of stride lengths.
This size of an elliptical trainer is actually considered as a "heavy weight" and as such, this can support users weighing up to a maximum of 350 pounds.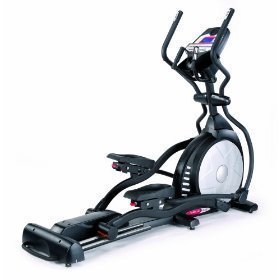 Another heavy weight size of an elliptical trainer measures around 73 inches in length by 31 inches in width by 65 inches in height and this one can actually support users of up to 400 pounds.
You can see that the heavy weight size varies and this is basically determined by the manufacturers and their own quality control system.
For an elliptical trainer that can support a maximum weight of 275 pounds, this size of an elliptical trainer is usually around 73.8 inches in length by 24.6 inches in width by 64.2 inches in height.
This type typically has an adjustable stride length which starts at 13 inches and then going up to 15 inches and finally, 18 inches.
Why Users Choose Elliptical Trainers Over Treadmills
Aside from the support that elliptical trainers provide to the joints, particularly the knees, elliptical trainers usually have forward and backward options providing you with the best workout for quadriceps.
These exercise machines also operate on a much quieter level which means that you won't have to worry about disturbing your neighbors in the apartment downstairs or the people in the next room as you complete you workout.