Organizing A Small Thanksgiving Party
Thanksgiving is that one time in a year when people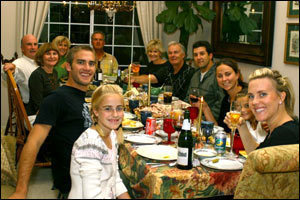 take stock of their lives and be grateful for all the blessings that they have received. It is also the time to be thankful for loved ones who have made your life more fulfilled.
Family gatherings are something to look forward to come Thanksgiving. To have a stress-free Thanksgiving party, check out the following tips.
Organizing a Small Thanksgiving Party
Whether you're planning a small Thanksgiving party for eight people or you are going to invite more, these steps will help you throw a stress-free party.
First, you need to determine the exact number of people who will be coming to your party. This will help you decide on how the food servings that you need to prepare plus make all necessary arrangements to have enough chairs and tables to accommodate everyone.
Second, renting tables. There are tables and chairs that you can rent if you don't have enough. Round tables are better as these will allow everyone to talk to people at the table without having to strain their necks or shout to be heard.
For a small group, you can get two tables that can seat four to six people per table. It is also recommended that you get separate tables for kids. Tables that can accommodate up to 6 persons usually measure around three feet and six inches in height.
Third, plan your menu ahead of time. Now comes the tricky part. You need to plan your Thanksgiving menu way ahead of time so you will have more than enough time to prepare and cook.
Since you may have an idea of what your guests will like, plan your menu in a way that food preferences of your guests will be included. For instance, if you have vegetarian guests or guests that are allergic to specific ingredients, you should keep these in mind when planning your menu.
Fourth, do preparations early on. On the eve of your Thanksgiving party, you can start preparing some of the ingredients so you only need to throw everything together for cooking on the day of the party itself.
Fifth, go pot luck. What better way to have a stress-free party than to delegate? You can ask your guests to bring their specialty dishes for your Thanksgiving dinner so you only have to cook one or two dishes.
This requires coordination so your guests don't end up bringing the same food.
Sixth, seating plan. It is important that your guests will have a good time as you are sharing your Thanksgiving dinner. If you are using separate round tables, seat people together whom you feel will most likely enjoy conversing with one another.
Finally, remember that you are celebrating being grateful for life and all its blessings, so have fun and enjoy the spirit of Thanksgiving.