Turkey is the symbol of Thanksgiving in the United States. No celebration is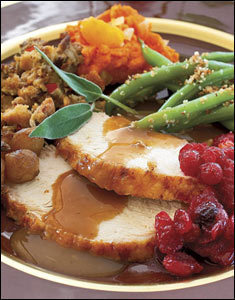 complete without the tender, perfectly roasted pounds of meat. Everyone would like to have a serving and why not? Roasted turkey is one of the most luscious meals you could have for such an extravagant evening as Thanksgiving.
Thanksgiving Turkey Size
Since every guest would like to have a good serving of the star of the occasion – turkey – you must not underestimate the size of the bird you are going to roast. Turkeys come in small and enormous sizes. It depends on the number of your expected guests how big or small your turkey should be.
Some foodies suggest that you roast two small turkeys instead of one large bird. That is what they say, the easiest way of preparing this special meal. Small turkeys are also much tender and have better flavor. They also fit in to most regular ovens. But if you think about the value you could give your hard-earned dollars, buying a large one is well worth it. Large turkeys are of better value if you consider the meat to bone proportion.
In terms of portion sizes, ideally, you must allot one pound of uncooked turkey for every guest. That will provide the allowances needed for both smaller appetites and larger appetites that will expect or even request extra helpings.
If you are expecting twenty guests, a twenty-pound bird should do it. That is enough to fill in everybody's stomach and if you're lucky, you can even have some leftovers for a next day meal. Do not be tempted buying more than what you need. A bigger bird would look fantastic at the dinner table. Eating leftovers for days and days or even weeks, however, does not feel or taste good.
If you allot more than a pound of meat per guest, expect to have more leftovers the following day. During Thanksgiving, food and beverage flood the dining hall. Your guests will have a lot of choices. Their stomach may not be able to chew in everything that their eyes are being pleased with.
A Thanksgiving menu consists of more than just the turkey. There will be bread, dessert, soup, drinks, and some other holiday meats including ham, chicken, or lamb. In that case, you must balance the meal out by making sure your guests will not be overwhelmed.
Food is the most important factor to consider when preparing for a holiday feast such as Thanksgiving. When planning your menu, don't forget the turkey and don't forget to prepare and cook it well.