Heineken has been brewing world-class beer since the 19th century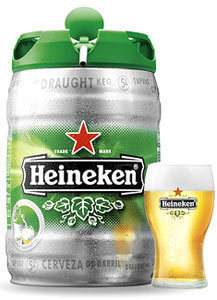 and their international presence has made them a household name all over the world.
Revolutionizing the way they serve their very famous Heineken beer, they made innovations on their beer keg and created the Heineken Mini Keg.
Called the Heineken DraughtKeg, this was 1st introduced back in 2005 in European countries and penetration into the US market followed suit. From the large beer keg that weighs about seventy pounds, the mini keg has revolutionized the way beer is served in homes.
How Big is the Heineken Mini Keg?
The Heineken DraughtKeg can hold five liters of beer and is about 37.47 centimeters in height by 38.73 centimeters in width by 26.04 centimeters in depth. The keg is made from recyclable aluminum and comes in the green color this brand is known for.
Also known as a 5-liter keg, the Heineken DraughtKeg has become a mainstay in most home parties. The keg comes with a lever on top that you raise when you want to pour beer in your cup, making it very easy to manipulate and use.
The 5-liter keg can supply you with at least ten pints of beer which, when you compute the price you pay for a keg, roughly around $20; you will still get your beer at a cheaper cost as compared to getting it in individual glasses in bars and pubs.
If you serve twelve fl. oz. of beer from this keg, you can get at least fourteen cups while twenty fl. oz. will give you at least eight servings.
Keeping Beer Fresh for Days
The keg has an internal carbon dioxide compressor which keeps the beer fresh days after you have opened the keg. The compressor actually prevents the beer from mixing with the air thus preventing it from becoming stale even after you have opened your mini keg.
It is said that the beer stays fresh for up to thirty days upon opening the keg.
The keg however is non-refillable but it is still a lot cheaper as mentioned earlier as compared to buying individual cans or cups of Heineken beer.
Heineken: Leading Brand Worldwide
Heineken is one of the leading beer brands all across the globe and in fact, the company has won numerous awards for their innovations in their breweries, among other things.
The company also provides over two hundred other premium beers and cider such as Primus, Birra Moretti, Sagres, Cruzcampo, Foster's, Strongbow, Bulmer and Tiger.
Incidentally, the Heineken DraughtKeg is available nationwide in the United States, Canada and Europe.