Dimensions of a Full Size Comforter
A type of blanket used to keep us warm while sleeping,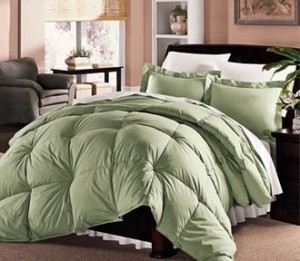 a comforter is usually filled with synthetic or natural insulating materials. It is popular in places with cold weather. It is commonly packaged as a set, which includes pillow shams, a bed skirt and pillows. This blanket type is offered in different designs and sizes. To know more about it, here is a quick look at the varying dimensions of full size comforters.
Full Size Comforter Dimensions
What are the standard dimensions of full size comforters? Its standard length is 92 inches while its width is 77 inches. It is relatively larger than a twin comforter, which is commonly 87 inches long and 67 inches wide. On the other hand, it is smaller than queen size and king size comforters, which measure 87 inches to 90 inches long as well as 87 inches to 101 inches wide.
To have a relaxing sleep, it is best to use a bed sheet that suits the size of a full size comforter. For a standard full bed mattress, the length of a sheet should be 75 inches while the width is 54 inches. On the other hand, if you have a full extra long bed, the dimensions of the sheet to be used must be at least80 inches by 40 inches.
Additional Information and Other Interesting Details
To keep users warm, a comforter is filled with several layers of insulating materials such as down feathers, polyester batting, silk and wool. To secure its filling, manufacturers ensure that it is quilted or stitched. Some of the materials used to cover this type of blanket are polyester fabrics, cotton as well as silk.
Aside from dimensions, it is also important to consider the design of a comforter before you buy it. Its design should complement the appearance of a room. Additionally, its color should not deviate from the colors of bed sheets, pillowcases and blankets that you commonly use. Moreover, it is better if you spend time comparing the prices and quality of comforters of different brands before you decide to buy one.
To maximize the utility of a comforter, it is important to avoid washing it in a top loader. In addition, do not bleach it because it contains strong chemicals that can be harmful to its filling and covering. If you expect to maximize the utility of this blanket, it is advantageous if you buy it from the leading manufacturers of bed sheets and comforters in the world.