Sony Ericsson Cellphone Dimensions
The following sizes are applicable only to these specific models.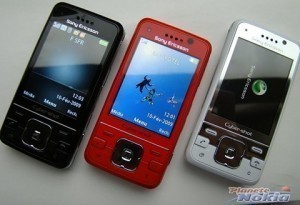 It is entirely possible for Sony Ericsson to come up with a new version of the phone with different specs.
Sony Ericsson Cellphone Dimensions: Sony Ericsson W580i Walkman
The phone measures 3.9 by 1.85 by 0.5 inches and weighs 3.3 ounces. The talk time is at 9 hours. The standby time is 15 days. It comes with a music player where you can play several songs. There is room for expandability (up to 4 GB) so plenty of music can be stored. In music mode it can play up to 20 hours.
The W580i comes with a shake it up feature; by flicking the wrist, the songs switch into shuffle mode. The phone also comes with a camera, voice recording and video. Currently the phone is available in four colors; pink, green white and black.
Sony Ericsson Cellphone Dimensions: C905a Cyber-shot
The phone measures 4.09 in x 1.93 in x 0.71 in. The weight is 4.8 ounces. The C905a Cyber-shot is equipped with an 8.1-megapixel camera. The camera comes with auto focus, face detection and 16X zoom. There is a music player built in, along with FM and streaming radio.
Standard cellphone features like instant messaging and text messaging are also included. Video sharing, Internet surfing and email are also included. Other extra features are ringtones, alarm clock, a calendar and an organizer.
There are several games bundled in the phone as well as Bluetooth. The display is 2.4 inches at a 320×240 resolution. There is also voice dialing and voice command included.
Sony Ericsson Cellphone Dimensions: the TM506
The TM506 measures 1.8 in x 3.7 in x 0.7 in. The phone weighs 3.6 ounces. It comes with a 2-megapixel camera, a speakerphone and a memory stick. The memory stick can be used to move data to other devices. A music player is included as well as video capture and playback. The TM506 also comes with a GPS and RSS feeds.
The phone also comes with the following features: wallpapers, mobile email, and Bluetooth. It is also possible to do video blogging, make and send audio postcards and backup the address book. Wallpapers, ringtones and games are thrown in as well. The battery life is 7 hours and the standby time is 14 days.
Sony Ericsson Cellphone Dimensions: the W350
The W350 measures 4.09 in x 1.69 x 0.41 in. It weighs 8 ounces. It comes with a 512 MB card that can store about 500 songs (upgradeable). There is also a 1.3-megapixel camera, several polyphonic ringtones and wallpapers.
A browser is included for surfing on the Net; email and text messaging capabilities are also built in. There is also an FM radio, a calculator, clock, timer and a phonebook. There is also a calendar and it's Bluetooth capable. The phone supports drag and drop from the PC to make copying files easier.
Like its competitors, the Sony Ericsson cellphone dimensions have become as vital as the features packed in the device itself.