What is the Size of a Cold Planer?
The cold planer is a type of heavy equipment used to rip out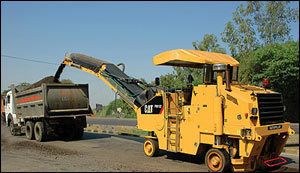 roadways and sideways. These are ideal for bituminous pavement and asphalt concrete. These machines are run by construction crews. The cost of these machines will depend on the configuration.
Cold Planer Dimensions and Specifications: Caterpillar PM-200
The operating length is 45.58 ft / 13.94 m and the operating width is 9.42 ft / 2.9 m. The minimum operating height is 10.5 ft / 2.93 m and the maximum operating height is 12.58 ft / 3.95 m. The maximum truck clearance is 15 ft / 4.6 m and the shipping length – base machine is 24.5 ft / 7.5 m. The shipping length – with conveyor down is 37.25 ft / 11.38 m.
Cutting and Service Refill Capacities
The cutting width is 6.6 ft / 2010 mm and the cutting depth is 12.6 in / 320 mm. There are 179 tools. The fuel tank capacity is 290 gal / 1100 L and the water spray system is 925 gal / 3500 L.
Engine Specifications
Aside from the cold planer dimensions, the engine is something buyers often look at. In the case of the Caterpillar PM 200, it uses a Caterpillar C18 ACERT. The gross power is 575 hp / 429 kW. The net power is 557 hp / 415 kW. The bore is 5.7 in / 145 mm and the stroke is 7.2 in / 183 mm.
Weight Specifications
The operating weight with full water tank is 68135 lb / 30900 kg. With full water tank on front tracks it is 35500 lb / 16100 kg and on rear tracks it is 32635 lb / 14800 kg.
Conveyor System
The collecting conveyor speed is 985 ft/min / 300 m/min while the width is 31.5 in / 800 mm. The discharge conveyor width is 31.5 in / 800 mm and the discharge conveyor maximum speed is 985 ft/min / 300 m/min. The discharge conveyor swing is 48 degrees / 48 degrees. The operating speed is 125 ft/min / 38 m/m while the travel speed is 3.6 mph / 5.9 km/h.
If you are looking for a cold planer, make sure that it fits your requirements. There are various types sold, so make sure you know what the required specs are.
The cold planer dimensions specified here are for the Caterpillar PM-200 only. Other models will have unique setups. The configuration will hinge on the construction work to be done.