What is the Size of a Skip Loader?
A skip loader is a vehicle used to gather and move diverse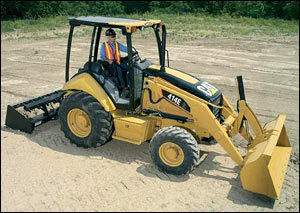 kinds of materials. These loaders are frequently used to put loads into dump trucks. It is also known as a front end loader, bucket loader or scoop loader.
Skip Loader Dimensions: DFAC XBW
This skip loader measures 5995 x 2000 x 2900 (mm, L x W x H). The emission is 3856 / 2659 ml and the gross mass is 4495 kg. The rated mass is 1000 kg while the kerb mass is 3365 Kg. The F/R suspension is 1032/1488 mm and the wheelbase is 3300 mm.
The approach / departure angle is 19/15 degrees and the F/R gear case is-F:1.5t R:3 t. Other features include a dual-spoke steering wheel, hydraulic brake system and wire soft shaft controlling gearbox.
The specs apply for this skip loader model only. Vehicles made by other manufacturers will have different specs.
Other Information about Skip Loaders
Even though the skip loader dimensions vary, virtually all models come with large, thick tread wheels. The front of the skip loader is fitted with a square bucket which is joined to the base via a couple of hydraulic arms.
Behind the arms is the enclosed operator cab. It is here that the operator sits. From this location the operator can control the arms' movements and the loader itself.
Design and Usage
The skip loader is made for quickly carrying and moving copious amounts of sand, dirt and earth. The most frequent use is to get materials off the ground and into another container. The loader bucket is usually fixed, but some are detachable.
There are also loaders with removable systems. These are more expensive, but various accessories may be attached to them. Accessories that may be added are clamshell bucket, snow plow, bale grappler and lift forks.
An element that distinguishes the skip loader from other machines is that it uses wheels rather than tracks. By using wheels, their flexibility is boosted. It allows the loader to move on mud, paved surfaces and other types of terrain.
The front loader steering is set on a precise pivot point which is set between the rear and front axle. This gives the operator better control and greater weight load capacity.
Aside from knowing the skip loader dimensions, the load capacity and arc degrees must be assessed as well. Unless the specifications are understood, the loader will not perform as expected.