A drupe tree that belongs to the family of Rosaceae and the genus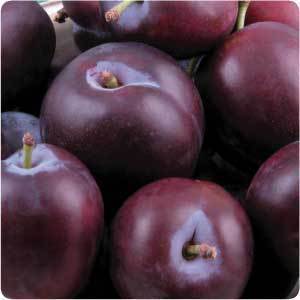 Prunus, a plum (also known as gage) has flat and broad leaves as well as red or blue fruit at maturity. The flowers of the tree are usually grouped together. The fruits are coated with an epicuticular wax. The fruits of plum trees are healthy because these contain nutrients and vitamins needed by the human body. Before we look at the nutritional value and uses of the tree, it is best to look at the physical characteristics and the normal plum sizes.
The Sizes of Plum
A plum tree usually reaches the height of 20 feet to 30 feet while the diameter is around six inches to 12 inches. The leaves of the tree measure five inches while the stems are usually 1/3 shorter than the leaves. Additionally, the whole fruit measures more than an inch and it has a large pit. The fruit is juicy and sweet. The bark of the trees may be fissured or smooth. The color of the bark is usually gray or dark brown. The tree grows in places with cold temperature.
Additional Information and Other Important Details
Plum fruits are rich in vitamins needed by our body such as vitamin C and vitamin A. The fruits also contain dietary fiber and sugars. Other nutrients that people can get from eating the fruits are potassium and phosphorus.
The fruits are commonly used in making jams. Plums can also be juiced and fermented. The fermented juice of fruits are used in making plum wine, which is very popular in different countries in Eastern Europe. The fruits can be dried. Dried fruits of plum trees are known as prunes. Many people like to eat prunes because these are rich in antioxidants. Additionally, prunes are helpful for treating digestive disorders like constipation.
Some of the plum cultivars that are widely used today include the Damask plum, the Greengage, the Mirabelle, the Satsuma plum and the Yellowgage. When cultivating plums, it is important to make sure that the area where the seeds will be grown are cold because the trees will not survive if the seeds are grown in places with hot climate. Additionally, it is important to harvest ripe fruits instantly to prevent the development of the fungal plant disease brown rot. If the fruits are affected by the disease, these are no longer edible and the disease can affect the other parts of the tree like the bark, which are also useful in making furnishings.