The screwdriver sizes listed here are for the US. However, the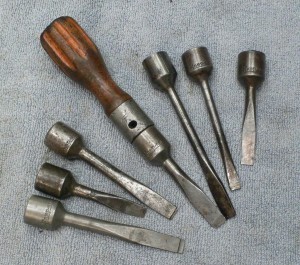 specifications used here may also be employed in other countries. If the measuring unit used by a manufacturer is different, you need to ask for the equivalents as indicated here.
Common Sizes for Flat Screwdrivers
Flat screwdrivers differ by their blade size. The measurements are in decimals and millimeters. A blade measuring .025 has a decimal size of 0.025 or 0.6 mm. A flat screwdriver with a blade size of .040 has a decimal size of 0.040 or 1.0 mm. Blade size .055 has a decimal size of 0.055 and is 1.4 mm.
A blade size of 070 has a decimal size of 0.070 and is 1.8 mm. Screwdriver size 080's decimal size is 0.080 or 2.0 mm. A blade size of .100 is 2.5 mm with a decimal size of 0.100.
Treated Alloy Steel Blades
A flat blade measuring 1/8" has a decimal size of 0.125 (3.2 mm). The Philips #000 blade possesses a decimal size of 0.055 and measures 1.4 mm. Philips #00 has a decimal size of 0.080 and measures 2.0 mm.
The decimal size of the Philips #0 is 0.100 and has a size of 2.5 mm. Phillips #1 measures 0.125 9decimal size). In millimeters it is 3.2.
From inches to millimeters, multiply by 25.4; to go from mm to inches, multiply by .03937. You'll want to keep this in mind when assessing screwdriver sizes.
Some Screwdriver Head Types
Among the most common are the flat or straight like the Phillips ("crosshead") PH and the Pozidriv (SupaDriv) PZ. Other types are the square, hex, Torx, polydrive, double hex and more.
Tips on Using Screwdrivers
First of all make sure the screwdriver you use matches up with the head slot. You should also learn to distinguish among the many screw heads. Philips screwdrivers have a blunt tip. The Torx have a star shape; these are usually used for appliances and gardening utilities. The square head is used when duty twisting is required.
Getting the right screwdriver size is critical; if the screwdriver is too big or too small, twisting will not work. In fact it's possible to damage the screwdriver this way. Some screwdrivers like the SupaDriv can sometimes work even with a size mismatch.
Using force is necessary when tightening a screw. You need to set the head firmly into the screw. There are also different types of screwdriver heads.
The magnetic types stick to the screwdriver. These types are available in all sizes. However they are most useful with small screws. It can make the task of twisting much simpler.
Warnings
Screwdrivers can also be used for prying bars and levers. In some cases they are also used to punch holes in objects. However this should not be done because the screwdriver might be damaged. The user might also get hurt if splinters fly off.
When choosing screwdriver sizes, consider getting one with detachable heads. These heads are called bits. These screwdrivers allow you to work with different screws.