Road rollers are utilized for compacting bituminous materials,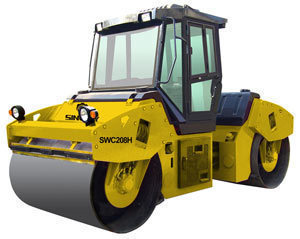 asphalt, gravel and soil. These machines are widely used in construction, but they are also utilized in agricultural work.
Road Roller Dimensions
These machines come in various sizes, and this has an effect on its ability to perform its task. There are some double drum road rollers that measure L-1450 mm x W-1000 mm x H-1080 mm, while others are more compact at 800 x 500 x 730 mm. These machines are not quick, and speeds of 3 km per hour is about the average.
Vibratory unit specs may vary, but 2800 vibrations per minute is very common. Many rollers use diesel engines, although the horsepower differs per model. These machines also have several safety features installed. These may consist of limit switches or safety features to prevent over loading.
Design and Application
While the road roller dimensions are diverse, the basic purpose will always be the same: to ascertain the foundation is compact and the materials will not break apart. Since their invention in the 18th century, their functions have remained essentially the same.
Roller Parts
The rollers are made up of simple parts. These would include the canopy to hold the operator, a diesel engine and a drum. The drum can be vibratory or static smooth. Tires are also included as well as a compaction meter. The compaction meter is used to gauge the compaction.
Types of Rollers
There are various kinds of rollers, and the variant used will depend on the materials, the weight or pressure required and the moisture. The static weight roller is equipped with a single axle roller and a smooth steel cylinder.
The self weight may be increased with water or by being ballasted with sand. As the machine is started, the materials on the ground are compacted. This is made possible because the soil is pushed up towards the movement.
The three-wheeled roller is used for thin layered materials. This roller is wide and there are two rollers set at the back. Many of the three-wheeled rollers lay emphasis on the front drum steering. They come with drives at the rear. It is wide used for compacting bituminous materials.
The road roller dimensions will get more varied as more types and variants emerge. If you are going to get one of these, make sure you know the difference between the various types so you don't make a mistake.