Halloween costume sizes are divided into men, women, ki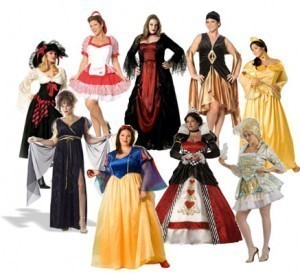 ds and teens, infants and plus sizes. The following is an overview of the figures used by costume makers.
Halloween Costume Measurements for Men
A lot of Halloween costumes are one size fits all. The one size fits all means the costume has a flexible waistband to adjust to the wearer's figure. Usually, only the waist measurement is used in the costumes.
The small size is for those with 32 inch waists. The medium size is for those with 36 inch waists. The large size is for those with 38 inch waists. Those with 40 inch waists should go for extra large. The adult standard size is from 34 to 40 inches.
Halloween Costume Measurements for Women
The regular Halloween costume sizes can be worn by women who don 8 to 12 dress sizes. Women's Halloween costume measurements are almost always determined by the dress size. The extra small are the 4-6 dress sizes. The 6 to 8 dress sizes are equal to small. The medium are for women who wear 8 to 10 dress sizes. The large is for the 12 to 14 dress sizes.
Halloween Costume Measurements for Children and Teens
The sizes considered standard for children are sizes 7 to 10. The small sizes are for 4-6 years of age; the medium are for 7-9 years and the large 10-13 years. Teen sizes are for 14-16 year olds.
Be aware that Halloween costume sizes for kids and teens may not be applicable at all times. Some children are very large or small for their age. Most teens over the age of 16 years will have to wear an adult costume. If your teen is as tall as you, get them an adult size outfit.
Note: sizes for infants and toddlers are based on their age. They are bunting (below six months), infant (6 months to 2 years) and toddler (2 to 4 years old). Again, get the larger size if you're not sure.
Halloween Costume Measurements for Plus Sizes
The plus size for men is 42+ inch waist, and for women it is 14 to 18 dress size. Almost all online stores have plus for their Halloween costume sizes.
Tips
It's much easier to shop for Halloween costumes online. You can go to several online stores and compare the sizes and the prices. Aside from the size, also think of the design and theme. Halloween costumes can be scary or sexy. Or they can be culled from historical figures, celebrities, comic book characters etc.
Once you have an idea of the costume, go to the Net and look for it. Shopping online is also cheaper (no gas, no parking etc.).
Don't leave out the accessories. Whether you're going to the party as a fairy or witch, bring along the wand, hat, jewelry etc. Since this only happens once a year, why not go all out?
If you're not sure of the Halloween costume size for you, always go for the bigger one. As long as you're comfortable with the design, look and fit, you're good to go.