When the Christmas Star is spoken of, what this refers to is the Star of Bethlehem. Christmas star ornaments are therefore representations of the original Star of Bethlehem which was mentioned in the narration of Jesus' birth in the Bible.
Christmas stars sizes come in specific dimensions depending on where you are going to use them. There are Christmas stars that are used as tree ornaments and there are likewise stars used as door and wall hangers while bigger ones are usually hung from the ceiling.
Christmas Stars Sizes
Tree Hangers
For tree ornaments, star sizes usually start at 2.5 inches high, and may come in half-inch increments with some suppliers; while others only have a few specific sizes.
There are also three-inch stars and the biggest recommended size for an average-sized Christmas tree is a five-inch star.
These may come in silver or gold, glittery finish; or the traditional red and green Christmas colors. There are likewise stars made with glass and papier-mâché.
Other styles include three-dimensional stars made in glass materials, stars adorned with different accents such as red berries, Swarovski crystals, beads and tassels.
Tree Toppers
The Christmas star is also commonly used as a tree topper and this likewise comes in different sizes enabling you to get the right size that will suit your tree size.
Star tree topper sizes start at 6.25 inches high and then goes up to 8.5 inches up to 10 inches for smaller Christmas trees.
For bigger trees, sizes usually start at 11.5 inches going up to 12 inches and all the way to 15 inches. Usual colors are likewise gold and silver; and there are also stars done in different color combinations.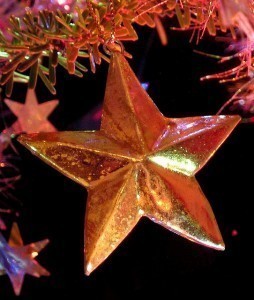 To make the tree look even more festive, Christmas stars today are adorned with lights, either a singular, clear light for the star; or a combination of different colored-lights.
Star of Bethlehem
The Star of Bethlehem played a significant role in the birth of Jesus because according to the Bible, it was this star that guided the Three Kings or The Magi to the place where Jesus was born to pay homage to Him.
It was said that the Three Kings saw the big bright star and they felt "pulled" to go to Jerusalem. Once in Jerusalem, the Magi found out that the Messiah had been born in Bethlehem and on their way there, they saw the same star once more.
The Star has been depicted in several Christmas stories, particularly those that re-tell the story of the birth of Jesus. In works of art, paintings that have The Magi as subjects also have the Star in the background.
Christmas carols that allude to this Star include "We Three Kings."