What Tree is the Largest?
What is the largest tree in the world? When considering the question in terms of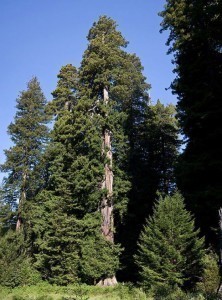 volume, it would have to be a Coast Redwood tree called Lost Monarch. Measurements reveal it is at least 26 feet or 7.9 meters in diameter. It stands 320 feet tall, or 98 meters. Lost Monarch is believed to hold an incredible 42,500 cubic feet or 1,200 cubic meters of wood.
Lost Monarch was discovered by a professional botanist named Stephen Sillett and forest Michael Taylor, whose work has been documented by the National Geographic. They discovered Lost Monarch in the year 1998 in Jedediah Smith Redwoods State Park in Northern California. Its exact location is kept secret from the public lest the high number of visitors do damage to its environment.
What is the Tallest Tree in the World?
The world's tallest tree is another Coast Redwood tree. Its given name is Hyperion. Hyperion stands at 379.3 feet or 115.61 meters tall. It is the world's largest tree alive today. Despite its height it is smaller in size than Lost Monarch, having 18,600 cubic feet or 502 cubic meters in volume.
Hyperion was first discovered in the year 2006 by a pair of foresters, Chris Atkins and Michael Taylor, the same naturalist who discovered Lost Monarch in 1998. Hyperion is located in the famous Redwood National Park in California. To protect its fragile habitat, Hyperion's exact location has never been revealed to the public.
Largest and Tallest Trees in the World
Coast Redwood is also known as California Redwood. The scientific name of the species is Sequoia Sempervirens of the genus Sequoia.
Coast Redwood are evergreen trees with long life, living up to 2,200 years. It is indigenous to California and the southwestern part of Oregon.
These trees grow very tall. It is not uncommon to find trees that are 60-90 meters tall. Presently there are 30 individual Redwoods measuring over 361 feet or 110 meters tall.
The largest Coast Redwood trees according to the latest findings are named: Lost Monarch, Fusion Giant, Sir Isaac Newton, El Viejo del Norte, Howland Hill Grant and Illuvatar.
The tallest Coast Redwood trees by current statistics are: Hyperion, Stratosphere Giant, Icarus, Helios, National Geographic, Paradox, Orion, Mendocino and Federation Giant.
The largest and tallest trees are always changing as new discoveries are made.
Although Lost Monarch and Hyperion are not shown to the general public, it is possible to see other Coast Redwoods in the great national parks in California.