Feller Buncher Dimensions
A feller buncher is used to take down groves of trees. These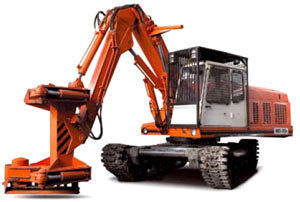 are then placed on skidders. Feller bunchers may employ hydraulic shears while others rely on large chainsaw blades to clip trees. These are widely used in the timber industry.
Caterpillar 573 Wheel Feller Buncher Dimensions
The wheelbase is 113 in / 2870.2 mm and the length w/ 22HC high capacity saw is 302.36 in / 7680 mm. The height is 125.98 in / 3200 mm and the ground clearance is 21 in / 533.4 mm. The width is 116 in / 2946.4 mm.
Engine Specifications
The gross power is 225 hp / 168 kW and the rated power is 225 hp / 168 kW. The net power is 225.29 hp / 168 kW and the engine model is Cat C7 ACERT. The operating weight is 27776.01 lb / 12599 kg. The operating weight without attachment is 27775 lb / 12599 kg.
Hydraulic System Specifications
Aside from the feller buncher dimensions, the hydraulic system is also very important. The cylinders lift is 102 mm x 64 mm (4.0 in X 2.5 in ). The disc saw pump flow is 32 gal/min / 121.1 L/min while the cylinders (steering) is 89 mm X 51 mm (3.5 in X 2.0 in).
Operating Specifications
The articulation angle (left/right, w/ 28l tires) is 90 degrees / 90 degrees and the turning radius (outside front tires) is 198.03 in / 5.03 m. The ground clearance is 21 in / 533.4 mm. The travel speed (low range w/ 28L tires) is 4.97 mph / 8 km/h.
Other Information about Feller Bunchers
Feller bunchers come in many designs, but two are widely used. Feller bunchers for light and medium work utilize the rubber-tired tractor chassis (like those on backhoes).
The heavy duty types on the other hand, employ the tracked designs similar to those on dozers. The tracked designs are also used by bunchers that work on rough terrain.
These feller bunchers perform the same task as those of lumberjacks. The bunchers are set into a group of trees. The blades are turned on.
The tree is positioned close to the skidder which is connected to the tractor. This is moved to another area. Bunchers are also utilized if thinning a grove is required. Bunchers are preferred because the damage is minimal.
Keep in mind feller buncher dimensions may change. The features of these equipments are always under evaluation, so it can be altered.