Pumping iron has become a fad in recent years as the younger generation has begun to appreciate the benefits of keeping fit. Encouraged by pictures of fabulous men and women with gleaming biceps and six-pack abs, scores of young people in different countries and cultures began flocking into gyms for their after-office work-outs. However, no image of a male or female body builder is more eye-catching than that of Aditha "Romeo" Dev, a muscleman who not only became famous in his hometown of Phagwara in India, but has also become an Internet sensation as well. The claim to fame of Romeo is his reigning record as the world's smallest body builder.
Standing at a diminutive 84 cm or 2.9 feet tall and weighing at 9 kg or 20 pounds, Romeo has a medical condition known as dwarfism, which is characterized by short stature. Contrary to the belief of many, dwarfism is not a disease and most of those who have the condition live long and fulfilling lives.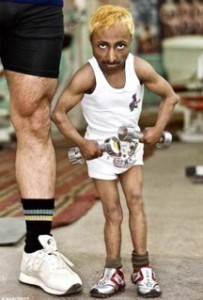 And, Romeo is one remarkable person who has proven that his short stature is no barrier to becoming a body builder — just like any person of normal height who strives to improve his physique. Unlike many people with the same condition, Romeo is well proportioned having a chest measurement of 51 cm or 20 inches and a head dimension of 38 cm or 15 inches. He puts in long hours every day at the gym with his trainer, Ranjeet Pal while crowds ogle at the world's smallest body builder pressing 1.5 kg custom-made dumbbells – which is a mean feat considering his size.
Pal, who is himself a well-known body builder, spends hours helping his pint-sized trainee build his muscles. While he puts Romeo under the same training regimen as every one else in the gym, Pal sees more fire and determination in Romeo. Initially, he required Romeo to do a month of basic workout such as push up, aerobics and basic gymnastics to prepare and tone his body. Then, Pal fashioned lightweight dumbbells and taught the world's smallest body builder basic weight lifting methods that would shape his triceps and biceps. Aside from bodybuilding, Romeo's passion is dancing and earns good money appearing in local TV shows showing his dancing skills. Just like any person, the 19 year-old smallest body builder dreams of being able to travel and see the world through the eyes of an accomplished dancer and entertainer.