Christmas Stockings Sizes
There are plenty of Christmas decorations that find themselves adorning homes come the holiday season and although these ornaments may vary from year to year, one of the staple Christmas decorations that are always displayed in homes are Christmas stockings.
In addition to presents under the tree, these stockings are also filled with surprises that kids find on Christmas Day. There is a wide variety of Christmas stockings sizes and designs that you can find today, each adorned with beautiful holiday prints to add to their decorative feature.
Christmas Stockings Sizes
Christmas stockings displayed in homes usually measure about nineteen inches long and has an opening at the top that measures around eight inches in width. These are usually designed with reindeer patterns, especially Rudolph; snowman patterns, Santa Claus, snowflakes, Christmas trees, wreath patterns and hollies.
A few are made with velvet fabrics in the traditional Christmas colors of red and green; a few are quilted and a good number are also knitted or crocheted; while others come in several different colors, including shades of blue and white.
There are likewise sizes that are suitable for each member of the family, from babies to older kids and adults in the household. Baby's stocking sizes are usually around 9.5 inches in width and 14.5 inches in length.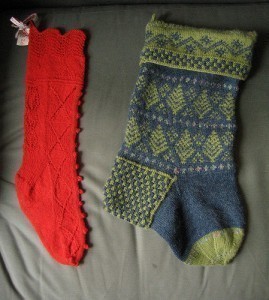 For the older kids, you can get stockings in sizes of 11 inches in width and 20 inches in length; while for the adults, the bigger ones measure 17.5 inches in width and 31.5 inches in length.
Personalized Christmas Socks or Stockings
Whether you are getting stockings of the same size for the entire family or you're getting specific sizes for each member of the household; personalizing your Christmas stockings will not only help each one know which one is theirs but will also make the stockings look even more decorative and at the same time homey.
Personalized stockings will also help Santa Claus what gifts go to which stocking.
You can personalize the stockings yourself by simply sewing-in the first letter of the names of each household member or you can also put in nicknames to make the names shorter.
If you are unsure on how to do this, there are sites online that provide instructions on not only personalizing your stockings but also creating your own stockings.
On the other hand, you may also seek the help of the supplier or shop where you will be getting your stockings from and ask them to personalize each stocking for you.