The menorah is a traditional Jewish symbol commemorating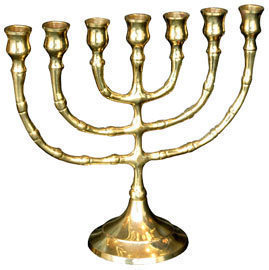 the "miracle of oil" where olive oil that was just enough for a day lasted for eight straight days, lighting the Temple of Jerusalem after it was re-dedicated following the Maccabean Revolt many centuries ago.
Menorah used in celebration of Hanukkah has nine candleholders, with the center holder being higher than the rest. Candle placed on the highest holder is called shamash and is the candle used to light-up each of the remaining 8 candles.
Menorah candelabra come in different dimensions plus, today's menorah also comes in various designs.
How Big is a Menorah?
A typical menorah that is used for homes is around 6 and 1/4 inches by 1 and 7/8 inches by 4 and 7/8 inches. This is usually made with a bronze metal material and has intricate patterns on each candleholder with the Star of David in the middle.
There are also longer menorah candelabra made with glass and have simple designs. These usually measure about 12 inches long and 4 inches high.
Other designs include a pewter menorah and this has more elaborate details such as being embedded with Swarovski crystals and made from copper or brass. This type typically measures about 5.7 inches high and 8 inches wide.
A more contemporary style is the art deco menorah in gold or silver. This one generally comes in dimensions of 10 inches in height, 6 inches in width and 10 inches in length.
For newlyweds, there is a Bride and Groom menorah; while parents can get their kids started early on the tradition by giving them their own children's menorah.
A tube menorah done in designs suitable for kids, such as prints of stars and moons; usually stand about 11 inches high and are 7 inches long.
World's Largest Menorah
The world's largest menorah can be found in New York City at the corner of 59th St. and Fifth Avenue. This stands approximately thirty-two feet high and is about four thousand pounds heavy.
Created by Yaacov Agam, an artist native of Israel, the menorah is lit each night for the duration of the 8-day Hanukkah festival. Because of its height, a crane hoists people up in order to light the candles.
Each lighting ceremony is celebrated with traditional dances as well as partaking of traditional Hanukkah fares such as sufganiyot, a type of doughnut that is filled with jelly in the center.
Thousands of people come to witness the lighting ceremony every night and partakes in the celebration and merriment in the spirit of the miracle of oil that happened many centuries back.