The menorah is an important symbol of the Jewish faith. This is a type of candleholder specifically made for the celebration of Hanukkah where nine candles can be placed on the menorah, eight for each night of Hanukkah festival and one for the center candle.
There are actually several menorah sizes and designs that are used today, and the choice for specific designs and dimensions actually depend on the preference of the family or individual celebrating Hanukkah.
Various Menorah Sizes
Sizes may be categorized into two classifications: adult sizes and kid sizes. Since most parents want to start their kids on the practice of Hanukkah lighting and prayer rituals, there are now menorahs that come in kid-friendly sizes and designs.
Kids' menorahs come in colorful designs including sports menorahs where little figurines of kids donning different sports costumes are the candleholders, crayon-shaped candleholders of various shades, puzzle menorah, friendship menorah and even a school bus menorah.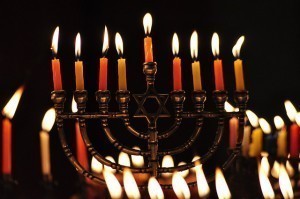 Sizes for these usually range from 10.5 inches long by 4 ¼ inches high, 11 inches long by 9 inches high and 12 inches long by 3 inches high.
For adult sizes, these usually range from 5 inches high and 5 inches long up to 12.5 inches long by 7.5 inches high. These can be made from crystal, brass and other metal materials.
Lighting the Menorah
Hanukkah is an 8-day long Jewish celebration and one candle is lit for each of the 8 nights of the Hanukkah, together with the center candle for each night as well. The center candle is actually used the other candles in the menorah.
Prayers are often said after each candle is lit and oftentimes, hymns are likewise sung as part of the lighting ceremony. What parents usually do is to ask their kids to light their own menorahs simultaneous with the lighting of the main menorah in the house.
This way, they have a more hands-on participation in the celebration. For most families, lighting the menorah is a big celebration where traditional Hanukkah food is shared after the ceremony.
Playing traditional games are likewise almost always incorporated in the celebration, infusing the solemn side of the celebration as well as the more festive and joyful aspect of the traditional celebration in the Jewish faith.
Usual food fares include latkes which are potato pancakes and jelly doughnuts called sufganiyot. The traditional game played mostly by kids during the Hanukkah is called the dreidel game where a special square spinning top is used for the game.