An all-terrain vehicle, or ATV, is an off-road vehicle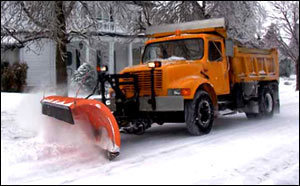 that looks like a cross between a motorcycle and small car. Fitted with powerful engines, these versatile vehicles have a variety of uses from leisure off-road riding, to racing, farming, hunting, hauling and grass cutting. When fitted with a snowplow, the ATV is transformed to an excellent piece of equipment for clearing small areas of snow. It adds another practical dimension to the utilitarian features of an ATV and eliminates the need to acquire a much more expensive full-sized truck model for snowplowing. If you are planning to purchase this ATV attachment, remember that the size of a snowplow would generally depend on the size and strength of your ATV.
The size of a snowplow comes in common widths and heights. Typically, they range from 48 inches to 72 inches in width while their height varies from 10 inches up to 16 inches. A larger snowplow is best suited for a large 4×4 drive ATV than on a smaller 2-wheel drive ATV.
Regardless of the size of a snowplow, there are different technologies used in raising and lowering the blade. Manually operated snowplows, which are the cheapest, are raised or lowered by the ATV rider using a lever. Winch operated plows, on the other hand, lowers or pulls up the blade using the common ATV winches. Electrically actuated blades use an electric motor similar to that fitted in modern truck snowplows.
The choice of the size of a snowplow will affect the performance of the ATV. One consideration is the width of the snowplow. To allow the snow to clear the wheels of your ATV while plowing, choose a snowplow that is a couple of inches wider than the width of your ATV. If your ATV is the two-wheel drive type, or has a displacement of less than 500cc, it is advisable to attach one that has a width of less than 50 inches. But if you own a 4×4 drive ATV, then it can certainly handle blades whose width range from 60 to 72 inches.
ATVs that are fitted with snowplows are a good investment for the practical homeowner. Aside from being a cheaper alternative to larger truck plows, these can be driven in tighter areas because of their extreme maneuverability and can even be used to clear snow from sidewalks and in between vehicles parked along the road. Regardless of the size of a snowplow attached to your ATV, always observe safety regulations while plowing such as wearing safety helmets and high-visibility clothing and be aware of hidden obstacles in the snow that can cause you injuries or damage your ATV.