How big is a Quart Baking Dish
How big is a quart baking dish? Let us analyze this together.
A quart is equals to four cups. So any dish or pan or casserole that can hold as much as four cups of food is a quart baking dish. Definitely, it is much smaller than a three quart or two quart baking dish. But then again, dimensions depends on the shape of the pan. It can be oblong or rectangle or square or round and still hold as much food.
A quart baking dish can serve between 4 to 6 people. It is often used for regular family meals since it serves only a small number of people. If you are cooking for a larger group, you might as well cook in a bigger dish, which will multiply the serving portion as well.
Determining pan sizes and dimensions is important when it comes to making sure that your recipe would come out as it should. It is like, when you are given measurements about how much salt or pepper to put. You need to pull out the size of baking dish that the recipe requires. Otherwise, your food would not fit in right.
Here is a Martha Stewart recipe that needs to be cooked in a quart baking dish – Spinach and Cheese Puff.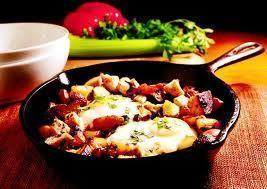 For the Spinach and Cheese Puff recipe, you will need only a few things. You will need some butter to grease the pan. You will also need 30 ounces of frozen spinach, thawed; one and one-half cups of half-and-half; three eggs, beaten; one and one-half cups of Gruyere Cheese, grated coarsely; a quarter teaspoon of nutmeg; and salt and pepper to taste.
Before starting on the ingredients, you need to prepare your oven and your baking dish first. Preheat your oven at 350 degrees Fahrenheit. Then, lightly grease your 1 quart baking dish with some butter. Set it aside.
In a large bowl, mix all the ingredients together. Make sure to set aside half a cup of the cheese for topping. Only put a cup into the mixture. Spread the spinach and cheese mixture into your greased pan, then top with the remaining cheese. Put the baking dish into the oven and leave it there for about 30 minutes. Your Spinach and Cheese Puff recipe is set when the top of the mixture is already an appetizing golden brown. The cheese should have melt nicely on top of the delectable spinach mixture.