Biggest Thanksgiving Parade
Thanksgiving is celebrated in different times and different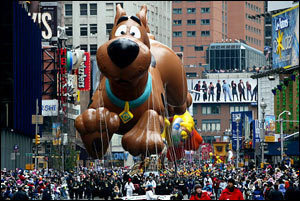 forms in various parts of the globe. The United States is among those that celebrate Thanksgiving with a big bang.
Traditional celebrations include family get-togethers, parties and annual parades in select cities all across America. The biggest Thanksgiving parade in the United States is the annual Macy's Thanksgiving Day Parade.
When it was first held back in 1924, it was estimated that a crowd of more than two hundred and fifty thousand people watched the parade. This prompted the organizers to make it an annual affair.
Today, its is estimated that more than a million people watch the actual parade in person while approximately over forty-four million people watch the parade on TV.
How It All Began
Most of Macy's first employees were immigrants and in their eagerness to celebrate their being in America and their new heritage, they wanted to do something special.
With this in mind, the employees came-up with the idea of holding a parade complete with colorful costumes, floats and musicians plus a few animals lent to them by the zoo; they staged their first-ever Macy's Christmas Parade.
Later on, the parade would become known as Macy's Thanksgiving Day Parade. The finale in the parade is the appearance of Santa Claus and it has since been held this way.
From 1927 up to this day, the live animals were replaced by large animal-shaped balloons which are popular cartoon characters. The first animal balloon was in the shape of the famous feline, Felix the Cat.
In 1934, Disney's most famous character Mickey Mouse joined the parade. It was actually the 1947 movie, "Miracle on 34th Street" that made the parade a permanent fixture in US culture with the movie showing clips of the parade.
Macy's Thanksgiving Day Parade Today
Today, this parade features a good number of performers from Broadway musicals, famous pop artists, various floats with different themes, school marching bands and balloons made out into famous characters from the latest children's movies.
A few of the balloons that have made their appearance in the parade include that famous purple dinosaur Barney, Dora the Explorer, Pikachu from the Pokemon series, Hello Kitty, Buzz Lightyear, Kermit the Frog and Horton the Elephant.
Ronald McDonald has also made his appearance several times.
Among the artists that have graced the parade the Jonas Brothers, Lifehouse, Dolly Parton, Jordan Sparks, James Taylor, Rick Astley, Ashley Tisdale and Corbin Bleu from the High School Musical Disney movies, Broadway star Kristin Chenoweth and former Disney star, Miley Cyrus of the Hannah Montana fame.