As with most holiday ornaments, Christmas bells are not merely decorative items to spruce-up homes in keeping with the holiday spirit. They play a significant role in the tradition of Christmas celebrations all around the world.
This being said, one will hardly find any home or establishment without some type of bell displayed within their premises come the holidays.
Since Christmas bells sizes come in many different forms, one can easily find a bell suitable for the front door, Christmas tree and practically anywhere else that you want to this from.
Christmas Bells Sizes
There are various bell sizes available today that make them suitable for hanging anywhere around the home.
Tree Ornaments
For Christmas tree ornaments, you will find that these come in the usual bell shape and several others that are ball-shaped with bell ringers inside. These come in various designs, from crystal bells and balls to plastic and silver or gold metal.
Sizes for bell-shaped ornaments for the tree usually start at 2 inches in width by 4 inches in length by 3.5 inches in depth. For a slightly wider bell, there are also those that measure about 2.9 inches in width by 4.8 inches in length by 3.1 inches in depth.
Other dimensions include 4.75 inches in length by 3.25 inches in width by 3 inches in depth.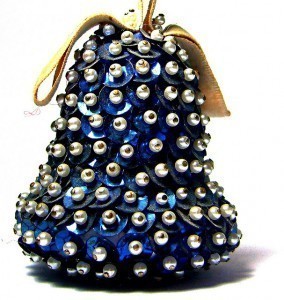 Dimensions for ball-shaped "bells" on the other hand usually start at 3.4 inches in length by 2.7 inches in width by 1.5 inches in diameter.
The tree ornaments also come in different designs, from simple bells and ringing balls to those topped with the holidays' most famous characters such as Santa Claus, angels, reindeer and elves. Others come in fancy characters for kids such as Disney characters and bears.
Home Decorations
Bells that are usually placed on tabletops or used as door hangers come in bigger sizes and more elegant designs.
Sizes for these start at 4 inches in height by 6.5 inches in width and 6.5 inches in depth. For a slightly bigger size, there are bells that come in measurements of 4.9 inches in height by 3.1 inches in width by 3 inches in depth.
Bells for Christmas
Ringing of the bells is associated with the joyful welcoming of Jesus Christ. Churches also ring bells to signify a joyous occasion hence; the practice of using bells around Christmastime was adopted by Christians around the world.
In the olden days, it was also said that bells were rung to ward off evil spirits particularly during the winter season when it was believed that evil spirits were more likely to roam the streets.